Hooman Nissan Applauds Choice of 2013 Nissan Leaf as IIHS Top Safety Pick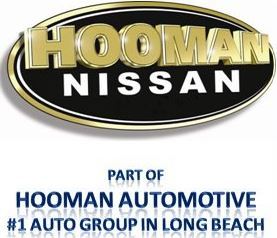 Signal Hill, CA -
Hooman Nissan
, located in Signal Hill, California, applauds the Insurance Institute for Highway Safety (IIHS) choice of the 2013 Nissan Leaf as the top safety pick in rigorous crash tests.
The IIHS awarded the all-electric five-seater vehicle with the highest possible safety rating. The 2013 Nissan Leaf has a number of high-quality protection features to give drivers peace of mind in case of an accident. These features caught the attention of the safety raters at the IIHS. Features include front and side airbags, sensored seatbelts and traction control systems.
The 2013 Nissan Leaf has been enjoying great sales in a variety of markets, especially since Nissan cut the price of the U.S. version by $6,400, putting it at base price of $28,800.
"We're pleased to offer our customers the opportunity to purchase this highly-ranked and regarded vehicle from Nissan," said a spokesperson from Hooman Nissan, a Certified Nissan Dealer. "The Leaf, like many other vehicles from Nissan offers the buyer so much, including the best safety features in the industry, and an eco-friendly design that lowers the amount of money the owner is spending on gas. The Nissan Leaf really does combine the best of all worlds in an affordable vehicle selection-it's an innovator in the world of electric sedans."
Hooman is the leading
Nissan dealer
in the Southern California area, offering a wide selection of top-notch Nissan vehicles at the best prices available in the area. Hooman offers both new and used vehicles, as well as a professionally-managed service department offering extended hours to provide the highest level of convenience to customers. Additionally, Hooman offers auto loans and financing to qualified buyers and a full selection of Nissan parts and accessories.
Hooman is currently offering a selection of 2013 Nissan Leafs at the dealership for interested customers. Each has the safety features that made it the IIHS top safety pick, and all vehicles are available at extremely competitive price points.
About Hooman Nissan
Hooman Nissan is based in Long Beach, CA and serves the Los Angeles and Signal Hill areas of the region. The
Nissan dealership
offers unparalleled pricing and service, as well as added benefits for customers, including a VIP membership program, offering immense privileges for customers who purchase a new or Certified Pre-Owned Vehicle from Hooman. The company can be contacted by calling (800) 973-3689 or visiting
www.hoomannissan.com
.