BestMark Supports the American Red Cross - Oklahoma Tornado May 2013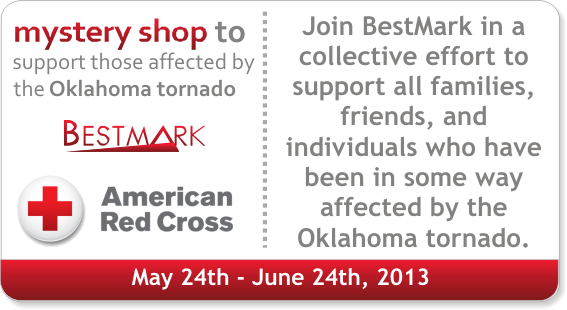 Minneapolis, MN – With the recent disaster in Oklahoma caused by an EF5 tornado on May 20th, totaling an estimated $2 billion in damage and described as one of the worst storms in American history, BestMark has chosen to support the American Red Cross throughout the months of May and June.
BestMark is recognizing those affected by the Oklahoma tornadoes by donating $0.05 to the American Red Cross for every mystery shop that is assigned online and is completed by June 24th, 2013.
As of the morning of Tuesday, May 28, 2013, the American Red Cross shared statistics that over 880 Red Cross disaster workers and 45 emergency response vehicles are on the scene, 170,000 meals and snacks have been served, over 27,000 relief items have been distributed, nearly 5,000 health services and mental health contacts have been provided, and Red Cross and other community shelters are open in Moore and Shawnee to those seeking refuge. The Red Cross states that the relief efforts are continuing.
The American Red Cross is receiving much needed support from individuals in and out of the Oklahoma community. Basketball player Kevin Durant of the Oklahoma City Thunder donated $1 million to the American Red Cross for relief efforts, and the Thunder later matched his $1 million donation. The United Methodist Committee on Relief, Matt Kemp of the Los Angeles Dodgers, Continental Resources, Devon Energy, ONEOK, Koch Industries, Hobby Lobby and Carrie Underwood have also pledged donations to the relief efforts.
Vice President of BestMark, Emily Ryerse says, "Giving back is an important part of the BestMark culture. As an organization, we are an involved partner in our own community and do what we can to contribute a positive influence, especially for those in need. Because of the American Red Cross's wonderful mission, we choose to partner with them when we are unable to physically help a cause and would like to lend a hand in helping those that are affected in tragedies as this."
Please join BestMark in a collective effort to support all families, friends, and individuals who have been affected by the Oklahoma tornadoes. Become part of the BestMark field force of mystery shoppers and auditors at
www.Shop.BestMark.com
to take part in our efforts.
You can help the victims of the Oklahoma Tornadoes and thousands of other disasters across the country each year by making a financial gift to the American Red Cross Disaster Relief Fund, which enables the Red Cross to provide shelter, food, counseling and other assistance to those in need.
The American Red Cross name is used with its permission, which in no way constitutes an endorsement, express or implied, of any product, service, company, individual or political position. For more information about the American Red Cross, please call 1 800 HELP NOW or email
info@usa.redcross.org
.
About BestMark, Inc.–
BestMark was founded in 1986 to help leading companies close the gap between the promise of service excellence and its actual delivery. Today, BestMark is one of the nation's largest customer experience measurement and mystery shopping companies, and our Fortune 500 clients represent some of the most innovative and successful customer-focused organizations in the world. Simply put, our approach is designed to isolate the key behaviors that drive customer delight and show our clients how to leverage this information to increase customer loyalty and profitability. To join our team of mystery shoppers, auditors, and exit interviewers, please fill out our free application at
http://shop.bestmark.com/
.