Trade Show Emporium Offers Line of Premium Pop-Ups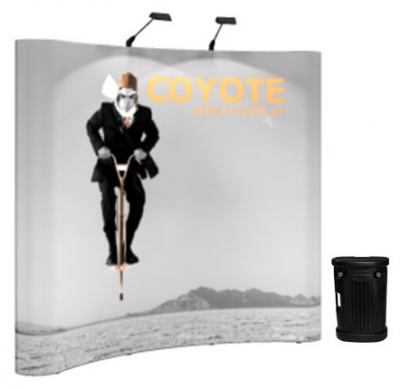 Pop-ups have been a staple in the trade show industry for years.
Pop-up displays
offer owners easy travel and set up, not to mention they're cost effective and make a statement at trade shows. So, it is only natural to try and perfect a good thing.
Trade Show Emporium
, a full service design and production trade show company, has added the best of the best of pop-ups to its display line. So, the company is now offering the
Premium Pop-Up Line
on their website.
Often times, the images on a pop-up are put on dye-sub fabric and then attached to the pop-up frame. The New Premium Line of pop-ups has the same features, but, the fabric is replaced by graphic panels. Each panel has its own set of magnets that attach to the frame. The magnet attachments allow the pop-up to look seamless and it only takes one person to attach them.
The Premium Pop-Up line comes in three different sizes. The
eight foot pop-up
, the
10 foot pop-up
and the
20 foot pop-up
. Each size is available in a curved style and a straight style. The pop-ups also come with end cap panel hangers so the frame will be concealed. The end caps also give the display a finished, polished and professional look. A hard shipping case, which doubles as a podium, is also included with the display. The case turns into a display podium when it is wrapped in a fabric roll.
The pop-ups can also be "upgraded" by adding shelving, LED lights and an LCD monitor mount. The Premium Pop-Up line offers a little more sophistication than fabric pop-ups and looks great in any show setting. Not to mention the easy set up.
Trade Show Emporium
is proud to offer such an affordable, easy and eye-catching line of pop-up displays.
Email Trade Show Emporium