Central Pennsylvania Rubber Distributor Integrate Versatile Silicone Rubber Strips Into Inventory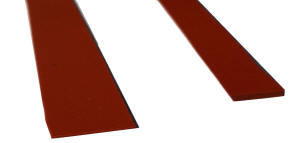 Rubber Sheet Roll is constantly updating their inventory and have just added Rubber Strips in Silicone material. Silicone rubber stripping is made from commercial grade silicone, meaning it has a wide temperature rating and longevity to repetitive physical abuse. Silicone strips are chemically inert and do not promote fungal growth. Another key characteristic of silicone strips are its high elongation properties, allowing it to stretch without stressing the rubber. Common applications for silicone stripping are weather strips, medical lab equipment, clean room gaskets, door seals, high temperature gaskets, and valve sealing.
Rubber strip silicone is a very versatile material because it has a temperature range that is more extreme than other synthetic rubber. Silicone rubber strips are inert, very flexible and can be used in medical and FDA environments. In addition to temperature, Silicone rubber stripping has superior resistance to water and makes an excellent electrical insulator. To view the numerous types of silicone visit
www.rubbersheetroll.com
or direct any questions to our sales team, toll free at 866-832-5797.
Rubber Sheet Roll, LLC manufactures and distributes rubber sheets and rubber rolls to a range of customers from individual consumers or building contractors to high tech military buyers. Rubber Sheet Roll is located in south central Pennsylvania with logistical locations throughout the US. For a more comprehensive overview, visit
www.rubbersheetroll.com
.
Contact Information
Sales Admin
Rubber Sheet Roll
Contact Us
Attachments