Patients Give Mexico Bariatric Center Rave Reviews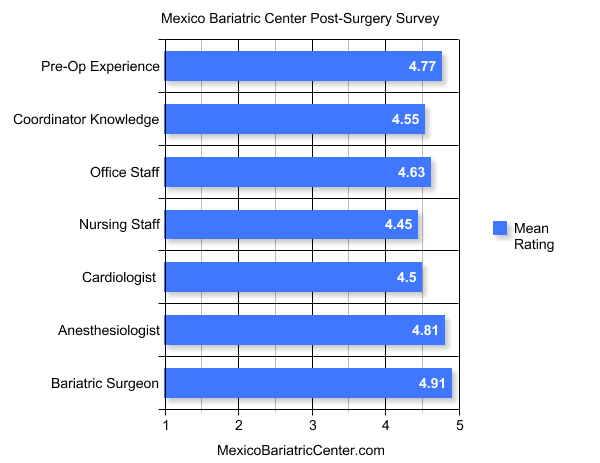 Patients who had bariatric surgery with
Mexico Bariatric Center (MBC)
have rated the service exceptional. In post-surgery survey forms, all the patients indicated they would
recommend Mexico Bariatric Center to their friends
.
Questions Asked by Our Survey Include:
Rate Your Pre-Operative Experience
Rate the Coordinator Knowledge
Rate the Office Staff
Rate the Nursing Staff
Rate the Cardiologist
Rate the Anesthesiologist
Rate your Bariatric Surgeon
Overall, the survey results show a high score of 4.7 out of 5, a score combination for all of our questions. Furthermore, many of our successful patients volunteer to be contacted by prospective patients about their experience with MBC.
MBC prides ourselves taking valuable patient input and learning where we can improve our service.
Mexico Bariatric Center works with top bariatric surgeons, qualified nurses and empathic staff to produce the highest quality experience for our patients. We closely monitor patient satisfaction for hospital facilities, surgeons, coordinators and office.
MBC Experience
Many patients who have filled out our survey forms,
left testimonials and reviews
, which we included in our website. We host various patient testimonials on various surgeries including:
gastric sleeve
,
gastric bypass
. We encourage people to visit our website to peruse dozens of video and text testimonials showcasing our experience.
MBC Surgeons
Mexico Bariatric Center has helped hundreds of patients undergo weight loss surgery. Mexico Bariatric Center works closely with Dr. Louisiana Valenzuela, Dr. Arturo Cazarez, Dr. Ismael Cabrera, Dr. Carlos Diaz and Dr. Ramos Kelly. Dr. Louisiana Valenzuela, Dr. Cazarez and Dr. Cabrera are the top lead bariatric surgeons who work in a close-knit team. We also hire only proficient patient and scheduling coordinators.
About Mexico Bariatric Center
Mexico Bariatric Center is the premier weight loss surgery facilitator in Mexico. Mexico Bariatric Center has helped hundreds of patients tackle obesity, while providing inexpensive, yet quality patient care. MBC provides healthcare in Tijuana, Guadalajara and Puerto Vallarta, Mexico. MBC offers the following bariatric surgeries: gastric sleeve, gastric banding, gastric bypass, duodenal switch, revision surgeries and single-incision laparoscopic surgery. MBC can be reached at 1-855-768-7247 or Facebook.com/MexicoBariatricCenter .