Topo.ly Online Mapping - The Roadmap of Address Location Data in a Grand View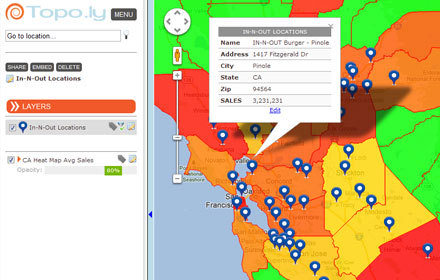 Almost every company experiences difficult throes in understanding and managing data. Topo.ly, on the other hand, is a timely application that uses mapping technology to the fullest. Through its easy-to-use features, it helps companies enormously to identify and define the three major characteristics of data – volume, variety and velocity by
creating maps
online.
Using an online mapping site empowers companies to organize their address location data. Topo.ly provides an advanced mapping application that enables businesses to view data in a grand view. It presents simple yet captivating features that make mapping simple and data easy to understand. Tom Haydon who owns a consulting firm said this about Topo.ly: "You folks have a great piece of software here. I was able to create a useful map within a few minutes of opening an account."
How to Boost the Impact of Address Location Data Using Topo.ly
Address location data creates internal relationships between each data set. But to decipher the relationships, a company needs to have them seen in a grand view. That is where Topo.ly steps in – a step above any other online mapping application. By helping the users to create maps, Topo.ly defines data visualization to the fullest. Below are some of the most significant features that makes it the only roadmap for location data analysis.
Add
Multiple Address
Location Data Sets
This feature makes data understanding time-efficient for many companies. Members are able to add unlimited number of data sets on their maps. This makes it more practical to conceive big insight from their data sets. What's more, each data set can still be used with different maps. The more data sets are used, the more in-depth analysis can be done that may open wide highways to better business opportunities.
Save Unlimited Maps
There is no limit for members to create maps and save them with secure SSL connection. As long as they need the maps whether for presentations or more analysis, the maps are saved on their account for future use.
Customize Markers
To fully understand data in a grand view, Topo.ly allows its Plus Members to create maps with customize markers. It does not only show attractive maps but more than that, it allows the users to easily identify different data sets thereby delivering results in half the time.
Companies can easily convert address location data into something that they can use to drive success. Topo.ly online mapping covers every little detail that makes data conversion simple, possible, and easy to understand.
Email Topo.ly Mapping Made Simple