Prolexic Releases Complimentary DDoS Protection Planning Tool to Help Organizations Build Stronger Defenses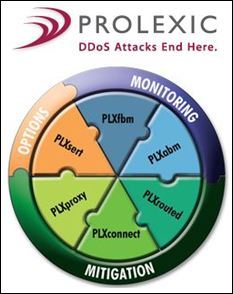 Hollywood, FL – Prolexic, the global leader in Distributed Denial of Service (DDoS) protection services, announced today that it has released a role-based version of PLXplanner, the company's free, online DDoS protection planning tool. PLXplanner is a strategic risk assessment and planning tool to help IT and security professionals build a better defense against increasingly powerful and sophisticated DDoS attacks. Based on answers entered in a role-based quiz, PLXplanner delivers strategic recommendations for improving business, technology or operational strategies to fight DDoS attacks.
"Organizations need to realize that DDoS attacks are not just a technology problem," said Stuart Scholly, president at Prolexic. "There are several dimensions to building a strong defense against these attacks. PLXplanner helps organizations focus on areas that are typically overlooked when evaluating their DDoS vulnerabilities."
Last year, Prolexic introduced the industry's most detailed DDoS Downtime Calculator. Since then Prolexic has reworked and refocused the online tool to deliver more strategic value. Renamed PLXplanner, the tool now delivers specific
DDoS defense guidance and best-practice recommendations
rather than bottom line numbers.
The operations planner, for example, asks questions about security architecture, application testing, monitoring capabilities, web team availability and more.
If your company already has website availability monitoring in place, PLXplanner will recommend including synthetic transactions, such a login to a test account. Why? Because an attacker can target back-end databases via HTTP application attacks (such as a POST attack). In that case, the website may appear to be online even though users cannot log in.
"PLXplanner 2.0 is a much deeper, more valuable tool. Our detailed recommendations reflect the user's unique IT and networking environment, customized to their role and responsibilities. This makes it more relevant and valuable for users at every level of the organization," added Scholly.
PLXplanner is available at
www.prolexic.com//plxplanner
.
About Prolexic
Prolexic is the world's largest, most trusted Distributed Denial of Service (DDoS) mitigation provider. Able to absorb the largest and most complex attacks ever launched, Prolexic restores mission-critical Internet-facing infrastructures for global enterprises and government agencies within minutes. Ten of the world's largest banks and the leading companies in e-Commerce, SaaS, payment processing, travel/hospitality, gaming and other at-risk industries rely on Prolexic to protect their businesses. Founded in 2003 as the world's first in-the-cloud DDoS mitigation platform, Prolexic is headquartered in Hollywood, Florida and has scrubbing centers located in the Americas, Europe and Asia. To learn more about how Prolexic can stop DDoS attacks and protect your business, please visit
http://www.prolexic.com/
, follow us on LinkedIn, Facebook, Google+, YouTube, and @Prolexic on Twitter.
Contact Information
Michael E. Donner, SVP, Chief Marketing Officer
Prolexic
+1 (954) 620 6017
Contact Us