d-Wise Technologies, Inc. Implements Clinical Data Standards to Help Transform and Integrate Data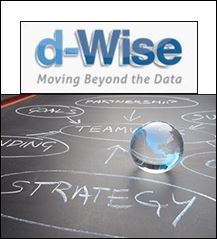 Morrisville, NC – To improve drug development and leverage research and technology for continued advancement in Life Science, it remains imperative for companies to improve data quality across the enterprise. The Clinical Data Interchange Standards Consortium (CDISC) has been working through productive, consensus-based collaborative teams, to develop global clinical data standards knowledge and technology innovation awareness to streamline medical research and enable data optimization within Life Science and Healthcare. However, many Life Sciences organizations continue to struggle with rapid and efficient clinical data standards implementation, governance and an agile data model.
d-Wise, is a leading provider of data integration and optimization around clinical data standards. By combining their extensive experience in implementing standards and clinical data and metadata technology solutions, leveraging CDISC, HL7 and other industry standards, d-Wise has transformed drug development processes for many of its Tier 1 Pharma clients. Deep domain knowledge in clinical data standards ensures consistency in the processes around data collection, transformation, analysis, and critical FDA submission and review processes.
d-Wise Standards Implementation teams accurately identify, design and develop strategic plans for building data standards models that drive immediate improvement in data quality and governance and support timely access to data and enterprise availability of information to inform research decisions. In developing a clinical data standards strategy, d-Wise leverages
CDISC data standards
within a wide variety of clinical environments, and remains technology agnostic with regard to solutions.
d-Wise collaborates with clients to adopt and implement data standards that are defined by each organization's unique requirements, yet positioned to accommodate the complexities and rapidly changing Life Sciences standards guidance. Beyond the strategic plan, d-Wise has the clinical data and technology knowledge to implement CDASH, ADaM and SDTM CDISC standards, governance and the related data models to effectively execute on their client's data and technology strategies.
To learn more about d-Wise data standards implementation capabilities and schedule a meeting with Chris Decker, VP Life Science Practice, d-Wise while at DIA Annual in Boston, click to
Schedule an Appointment
.
About d-Wise Technologies, Inc.:
d-Wise Technologies, Inc. is a technology leader with the expertise to empower world-class life science and healthcare organizations to resolve their business optimization challenges, helping them rapidly harness and leverage data, systems and processes to gain competitive advantage. d-Wise's 10-year history of tailoring solutions to meet individual client needs and deliver data integration, data warehousing and standards solutions within highly-regulated industries is rooted in extensive domain knowledge of SAS software, clinical drug development and clinical data standards like CDISC. For more detail please visit,
www.timetrade.com
.
Email d-Wise Technologies, Inc