Samantha Mary Unveils the Harper Backpack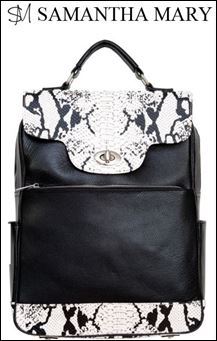 Manhattan Beach, CA – Created for the stylish, professional woman on the go, The Samantha Mary Collection offers a range of feminine bags designed to fit laptops, tablets or other mobile devices as well as a woman's other necessities. Among the latest additions to the collection is the convenient
Harper laptop backpack
. The Harper laptop backpack is ideal for women who travel frequently for work or leisure and need their laptop with them. This laptop backpack fits comfortably under airplane seats or in overhead compartments for easy travel.
"Our Harper lap top backpack is perfect for modern women who frequently travel and work remotely on their laptops," said entrepreneur and designer, Samantha Sachs of Samantha Marry Collection. "We have all faced challenges lugging heavy bags and juggling luggage while traveling. But the Harper lap top backpack leaves your hands free and comfortably caries a laptop as well as many other personal belongings in style."
The Harper laptop back pack is beautifully designed with black and ivory snakeskin embossed leather, faux grey suede interior and silver hardware. The universal style will perfectly compliment any outfit and is the ideal accessory for any jetsetter. The light and comfortable design is easy to carry and the classic style of this laptop backpack is ideal addition to a modern wardrobe.
The large exterior zip-front compartment makes it easy to load and take out a laptop and other belongings and the side pockets provide extra space to the charger or other tech necessities. The laptop compartment is padded to prevent any damage while traveling and conveniently fits up to 14-inch laptop. A turn lock closure also keeps items secure during travel. Samantha Mary Collection offers a 30 days guarantee against manufacture's defects.
To purchase the Harper laptop backpack, visit
www.samanthamary.com
.
About The Samantha Mary Collection:
The Samantha Mary Collection was an idea inspired by entrepreneur and designer, Samantha Sachs. While completing her education Samantha became frustrated with the limited selection of feminine rolling laptop bags available on the market. Her resistance to purchase a masculine rolling laptop bag led her to create a multi-functional feminine handbag line that would accommodate a variety of technology devices and accessories.