Support Small Biz Introduces THE BOOK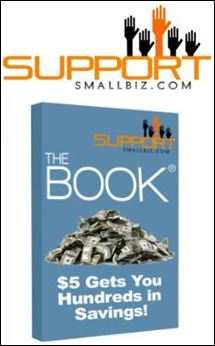 Mooresville, NC - Local businesses directory, Support Small Biz, is now introducing their latest resource, The Book. This book will allow readers to save hundreds of dollars with online and local coupons.
Their website, supportsmallbiz.com, is already a great resource meant to
support local business
as well as online businesses across the nation. They have become a great place for businesses to advertise and for customers to find businesses they can respect. Now though, Support Small Biz has added yet another resource, which they've aptly named, The Book. In this book, customers can find hundreds of coupons to local businesses as well as to some of their favorite online stores. All these coupons could potentially save customers hundreds of dollars. In so doing, it will also allow the business already featured on the site, to bring in even more traffic and sales. The book is meant to help customers "make the community connection that makes America great."
Also on their site, visitors can find resources for business, resources for shoppers, specials, local deals, deals online, links to their partners, and much more. If you own a business that has a high quality product and ethical business practices, you may want to get your business registered on this site and take advantage of their advertising for small business. If you are a shopper looking for ethical businesses and great deals, you too may want to get registered on the site to start receiving deal notifications today.
About Support Small Biz
Support Small Biz
was founded to assist small businesses in finding new clients. They strive to make that process different though, by making customers feel special. They accept only the most professional companies with high quality products and services into their local business directory. Through their website, customers can find competitive prices, and businesses can expand their companies. For further detail please visit,
http://supportsmallbiz.com/.