Stargate Cinema Introduces the Palliser Elite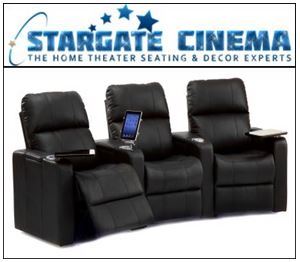 Fallston, MD - Stargate Cinema, the top online vendor of home theater seating and accessories, is pleased to announce that it is now selling the Palliser Elite in its Quick Ship Seating program. The brand new Palliser Elite seating option combines innovative features with an unbelievable price.
What makes the new Palliser Elite so exciting? Features, features, features. The Elite is loaded with the latest and greatest features for home theater like Cup Holders, Storage Compartments, Tray Tables and optional Power Recline. Plus, the most exciting feature, the new contoured seating area offers automotive-inspired comfort and design. This new contoured seating not only looks great but it hugs your body in comfort. The Elite also features a taller back rest, at 44", designed to accommodate persons of all heights, including taller persons. The horizontal stitch in the seat back has been moved up higher on the back for a modern appearance and as a result, better head support.
The Elite model can also be ordered as a fully customized chair featuring Bass Shakers, LED Cup Holders and more. The wireless bass shaker system to achieve an incredibly lifelike theater experience in the comfort of a home. The customized version of the Palliser Elite is available either as a stand-alone chair or in rows, and it also comes with the choice of hundreds of colors and fabrics.
In addition to the Palliser Elite, Stargate Cinema sells a vast selection of home theaters,
theater seating
, and popcorn machines, all designed to create the perfect home theater experience. According to a spokesperson for the company, "We have a commitment to offering high quality products at low prices by eliminating the middleman." On top of Stargate Cinema's unparalleled pricing and selection on seating, the company also sells gorgeous theater décor, including rugs, wall art, lighting, pillows, and a variety of other accessories.
About Stargate Cinema
For a number of years,
Stargate Cinema
has worked hard to provide the best home theater seating and accessories at competitive prices. The company stocks home theater décor and accessory items itself or deals directly with manufacturers, making it possible to offer Factory Direct wholesale prices. With impeccable customer service and loads of new products and features being added all the time, it's a great time to check out the product offerings at Stargate Cinema. For additional information please visit,
www.stargatecinema.com
.