"Consumeron survey finds On-Demand Personal Assistant with telepresence a Useful Service"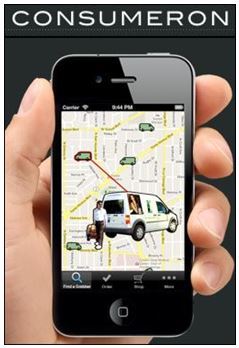 Consumeron's recent survey of potential consumers has found that the company's new
on-demand personal assistant
service will be in demand, as consumers have responded favorably to the features offered by the service, including its telepresence option.
Consumeron provides its customers with an online system that allows them to connect with roving "grabbers" to provide in-time delivery of a variety of needed goods. Having this service keeps the customer from having to run errands on his or her own or having to hire a full-time personal assistant or other employee to make runs. Using the Consumeron service allows customers to get the items they need in 50 minutes or less.
One key feature of Consumeron's service is a telepresence function that allows the consumer to connect with the "grabber" via a mobile device to see his or her location, communicate directly or to inspect the products being gathered by the grabber.
Respondents to a survey conducted by Consumeron found that potential clients of the on-demand personal assistant service believed it would be useful to the real-world needs of an increasingly busy society. The telepresence option was particularly popular, as it will provide greater accuracy and time management for customers as they work with "grabbers." The telepresence option is particularly popular among respondents who said they have used ridesharing and similar services such as Uber, Lyft and Sidecar.
The Consumeron system also uses a proxy pay system, relieving clients and their grabber of the need to carry cash, increasing convenience and safety for both. Consumeron "grabbers" all drive energy-efficient hybrid vehicles, meaning that clients will significantly reduce their carbon footprint by using this convenient service.
To get what they want when they want it, consider using Consumeron's in-time delivery with telepresence service.
About Consumeron
Consumeron is a California company specializing in providing convenient on-demand personal assistant services to clients. Consumeron is a division of the CapitalCrew Organization, which developed important vehicle safety devices used on bus fleets nationwide.
For more detail please visit,
www.consumeron.com
.