Rubber Sheet Roll Now Carry Easy-To-Install EPDM Roofing Rubber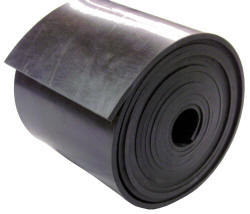 Now Rubber Sheet Roll is offering EPDM in roll form, making it even easier to ship and install EPDM rubber roofing. EPDM is known for its impressive lifespan, rated to last 40+ years in outdoor applications. Another option that is available is peel-and-stick adhesive (PSA), which is applied at the RSR production center and sent ready to be applied to most roofs or smooth surfaces.
EPDM has a high elongation rate of 300%, but it does not compromise its integrity as it maintains an impressive tensile strength of 1000 PSI. In addition to outdoor applications, EPDM also performs well in industrial settings that require chemical and alkaline resistance. Common applications for EPDM Rubber include roofing, flooring, table tops, machine shops, and auto repair shops.
EPDM rubber sheets are made from durable, high grade rubber that has extreme resistance to aging and weathering from the elements. EPDM rubber rolls also have low temperature flexibility, low electrical conductivity, and fair resistance to polar chemicals. EPDM membrane rubber is commonly used in the construction and automotive industries. To view the various functions and types of EPDM, visit the RSR website at
www.rubbersheetroll.com
.
Distributors and fabricators of rubber sheets and rubber rolls, Rubber Sheet Roll, LLC supplies to an extremely versatile group of clients to include Aerospace, industrial fabrication, construction and building projects, floor stripping, isolation pads to consumers looking for a piece of rubber to put on their work bench. Rubber Sheet Roll is located in Shippensburg, Pennsylvania (south central) and has distribution centers reaching throughout the continental US. For a more detailed outline of the company and its products, visit
www.rubbersheetroll.com
.
Attachments