G8LED Gains Marketshare with LED Grow Lights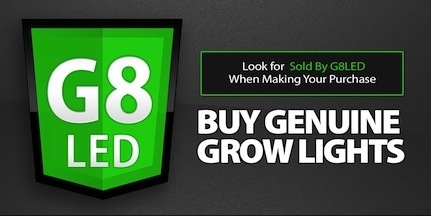 G8LED Grow Light company increased sales in the first three months of 2013 to have its best quarter ever. After getting a solid foothold in the niche LED grow light market from 2010-2012, G8LED pulled ahead in 2013 with record breaking sales numbers.
The LED grow light industry has been growing in recent years with advances in LED design and continued testing and reconfiguration by manufacturers like G8LED. Furthermore, relaxing state laws regarding the possession and cultivation of cannabis in the United States has helped fuel the growth. G8LED has capitalized on the political landscape and has expanded its reach by supplying many stores who resell their products. The company has focused on the needs of the indoor growing market, providing high performance lights at competitive prices to be able to attract first time buyers who had been previously priced out of the LED grow light market. G8LED gets a big portion of sales from repeat customers.
With a strict focus on customer service and brand image, G8LED has also entered the European, Australian and South African markets. "We know we are doing a good job when we get customers from South Africa and Europe email us and say that they have heard that our lights are awesome and our customer service is second to none! Its pretty exciting and motivating to get feedback like that from the customer base" says Ethan Grind, director of G8LED. "We have also forged partnerships with many localized garden supply and hydroponic stores in the United States and have focused on providing solutions and exceptional service to our customers."
G8LED distributes its lights through its online retailer
Dorm Grow LED
and also supplies various garden supply stores and hydroponics stores. To get in touch with the company please email
info@g8led.com
Robert Stanton