Topo.ly Online Mapping - The Right Kind of Business Analysis Tool that Company Executives Should Know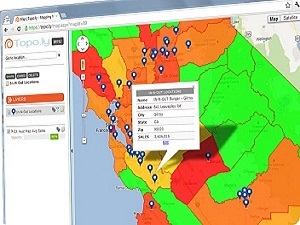 Company executives must be on top of their organizations at all times. They face the challenges of running the business smoothly, growing the company amidst the competition and protecting their operations from the many challenges around. To help them keep up, they use business analysis tools like Topo.ly. It is an
online mapping
application that helps them to identify opportunities and protect assets by allowing them to create a map by plotting address location data. It extends visual help to those who want to see through the data and use its meaning to their advancements.
To maximize the use of mapping technology, Topo.ly's mapping application is easy to use. Users can
create a map
for free in less than 3 minutes so they can move on and start making analysis. Inez Steele from Realty Guild said about Topo.ly, "Topo.ly is the easiest, most affordable and most flexible mapping solution for my web site I could find. Within 30 minutes I had my map up and when I hit a snag, customer service was right there to help. Thanks Topo.ly for making what I thought would be a mega job into something so easy!"
Online Mapping Tool Needed to Drive Business Success
Here is a step-by-step process that company executives usually take into account while using Topo.ly's features:
Create a Roadmap for Business Success
By creating maps in less than 3 minutes, companies are able to identify what initial steps to take to promote their business. As soon as they create maps, business executives can easily plot a list of priorities based from their analysis.
Focus on the Business Need
s
Topo.ly allows its members to add unlimited address location data sets so company executives can address issues and focus more on the necessary business needs. Through mapping, they can see the connections of each data set and act immediately based on their discovery. Thus, it is easier for them to concentrate more on what their customers need and act accordingly.
Find the Gaps
Heat mapping is one the most popular tools of Topo.ly. Whether it is to find information on location density or sum of sales, to create a heat map helps them find the gaps between what parts of the business are useful to the customers and what customers look for a service. Just like that and maps are readily available to view and understand.
Educate The Customers
Topo.ly makes it possible for its users to embed a map on their websites. This way, they can educate their customers regarding the nature of their business, how it is run, and how they ensure to provide exceptional service and provide the best products for their customers.
Address location
data makes more sense now especially for company executives if Topo.ly's advanced online mapping application is used.