Berriz Design Highlights Metro D.C. And South Florida Outdoor Kitchen Design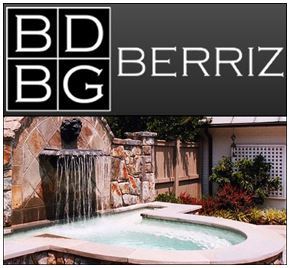 Burke, VA – With the long warm days of summer on their way, for many luxury homeowners in the Metro D.C. and South Florida area, the patio or backyard is becoming the premiere living space. Berriz Design now offers these discerning homeowners an excellent way to enhance their outdoor living experience with an outdoor kitchen. Specializing in outdoor kitchen remodeling, Berriz Design can create an elegant and comfortable space where the whole family will want to be all summer long.
Beyond the typical built-in grill, Berriz Design's outdoor
kitchen remodel
will provide a casual entertaining space in a gorgeous setting. Berriz Design will take the whole kitchen, from the oven and grill, to refrigerator, sink and cabinets and put it in the open air. Ideal for homeowners who love to entertain outdoors in the summer, the outdoor kitchen remodel makes food, kitchenware and everything needed for a fabulous party easily accessible. This popular trend in outdoor design is especially functional for luxury homes in Metro D.C. and South Florida.
Berriz Design will work directly with clients to create or remodel their perfect outdoor kitchen. The outdoor kitchen remodel is limited only by clients' imagination. Berriz is able to customize kitchen cabinets, warming drawers, dining tables, wet bars, wood fired ovens, outdoor fireplaces and fit pits, built-in grills and much more. From basic to exotic, the choices for an outdoor kitchen remodel are endless when Metro D.C. and South Florida area clients choose Berriz Design.
The company's expert kitchen remodel designers have created some of the most breath-taking outdoor living spaces for clients in Metro D.C. and South Florida. On the company's website, new clients are invited to browse the portfolio of beautiful outdoor kitchen brought to life by Berriz Design. With old world artistry, inspired design, and professional attention to detail, Berriz kitchen remodeling contractors understand the needs and desires of luxury homeowners in the Metro D.C. and South Florida.
To browse outdoor kitchen remodels and contact a designer for an initial consultation, visit
http://www.berrizdesign.com/
or call 954.343.6556.
About Berriz Design:
Berriz Design is a Metro D.C. design/build firm that specializes in high-end remodeling. Berriz has been providing homeowners throughout Northern Virginia with quality remodeling services for more than 20 years, and strives to infuse each and every project with luxury, class, and timeless beauty. The company's professional remodeling contractors are skilled in creating some of the most breath-taking interior and exterior designs.