Canadian Expats Bryan Adams and Rich Clune Recognized for Fighting Addiction at Home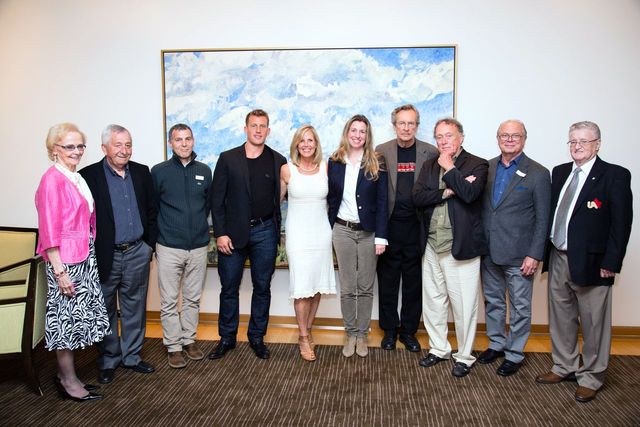 Toronto, ON - June 11, 2013 - What do a rough and tumble hockey player and an iconic rocker have in common?
On Friday, June 7th, 2013 Canadian rock icon and photographer Bryan Adams and Nashville Predators left-winger Rich Clune were recognized for their contributions to addiction awareness and treatment. Adams and Clune, along with seven other award winners including Clune's mother, Anne Marie, received Peter Armstrong Community Awards of Excellence during an intimate gathering at the Granite Club in Toronto.
Handed out by Renascent, a Toronto-based alcohol and drug addiction treatment provider, the awards recognize people and organizations who have made an outstanding contribution to the field of addiction.
"All of the Award recipients have made a significant impact on alcoholism and drug addiction treatment and recovery in their own way," says Dr. Patrick Smith, CEO of Renascent.
In 2012, The Bryan Adams Foundation donated $16,000 to Renascent to support treatment for women struggling with addiction. The Foundation is funded largely through the sale of Adams' photography, including images of the late Amy Winehouse, who passed away in 2011 as the result of alcohol poisoning.
In a recent interview with ESPN's Scott Burnside, Clune spoke candidly about his own addiction and the importance of family in recovery. The article has since been widely syndicated, spreading the message of recovery and inspiration to thousands of men and women still struggling to get clean and sober.
2013 Peter Armstrong Community Award recipients include:
Bryan Adams
Rich & Anne Marie Clune
Samantha Farjo
Mildred Frank
Mitch Griffiths
Allan Kazmer & Paul Cade
Oasis Addiction Recovery Society
Renascent offers gender-specific, 12 step based alcoholism and drug addiction treatment at four centres across the GTA and Durham Region. Renascent's programs for individuals, families and workplaces support recovery and healing for everyone impacted by the disease of addiction. Since 1970, more than 40,000 people have participated in residential treatment at Renascent.
Profiles of award recipients available
here