Rubber Sheet Roll Expand Inventory, Add Commercial Grade EPDM Rubber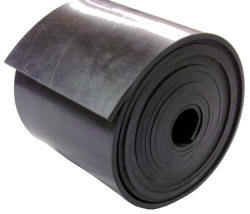 Rubber Sheet Roll are now offering Commercial EPDM to the public through their website and through order by their sales team. Commercial grade EPDM is commonly used in higher end applications such as seals and gaskets for high-pressure pumps. This rubber is very resilient against detergents and alkaloids, as well as mild resistance to petroleum. High-pressure lines and pipe gaskets are common applications for Commercial EPDM, because of its extreme resistance to UV light and temperature cycling. UV and temperature cause many other types of rubber to crack and become very brittle, whereas Commercial grade EPDM will provide an extended lifetime even against these tough elements.
EPDM rubber sheets are made from durable, high-grade rubber that has extreme resistance to aging and weathering from the elements. EPDM rubber rolls also have low temperature flexibility, low electrical conductivity, and fair resistance to polar chemicals. EPDM membrane rubber is commonly used in the construction and automotive industries. To view the various functions and types of EPDM, visit the RSR website at
www.rubbersheetroll.com
.
Distributors and fabricators of rubber sheets and rubber rolls, Rubber Sheet Roll, LLC supplies to an extremely versatile group of clients to include Aerospace, industrial fabrication, construction and building projects, floor stripping, isolation pads to consumers looking for a piece of rubber to put on their work bench. Rubber Sheet Roll is located in Shippensburg, Pennsylvania (south central) and has distribution centers reaching throughout the continental US. For a more detailed outline of the company and its products, visit
www.rubbersheetroll.com
.
Attachments