EDIC Offers First Year Policies for Graduating Dental Students Starting at $50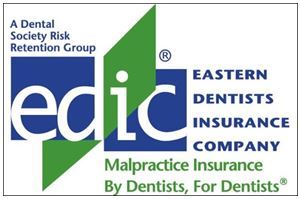 Westborough, MA - EDIC, one of the leading risk retention groups for dental colleagues, is excited to continue to offer graduating dental students a first-year policy for $50.00. Recognizing the difficulty of getting established in a new dental career, EDIC proudly offers policies starting at $50.00 for the first year and a substantial discount for the next four years.
What does EDIC's
dental liability insurance
include? Insurance for dental students and new dentists specifically includes some special options, including a new dentist discount for the first four years, policies for moonlighting, policies for part-time work, and leave of absence. For dental colleagues just starting out in the dental field, this opportunity is too great to pass up.
In addition to dental liability insurance, EDIC offers a variety of quality products through our subsidiaries, Eastern Dental Insurance Agency (EDIA) and Eastern Dental Financial Insurance Agency (EDFIA), for auto insurance, homeowner's insurance, renter's insurance, term life insurance, disability insurance and financial planning. Product availability varies by state and is offered through our state agents where applicable. EDIC also offers a range of value-added benefits such as white papers, advisories, a job board, 1-800 hotline, and educational risk management courses and webinars that can earn colleagues free CEUs. EDIC's mission continues to be Malpractice Insurance "By Dentists, For Dentists. According to a spokesperson for the company, "We have proprietary knowledge of malpractice claims and carry a 93 percent success rate in dental malpractice liability cases." With such success, the company offers over 20 years of experience with competitive rates and great customer service, making it a no-brainer for dentists looking for quality liability insurance.
About EDIC
Since it was founded in 1992
Eastern Dentists Insurance Company
has worked hard to contain the increasing costs of dental malpractice insurance for its significant pool of dental insured's. The company is owned and controlled "By Dentists, For Dentists"®, ensuring that the organization is always acting in the best interests of its members. As a successful risk retention group, EDIC has been expanding its operations into a wide variety of states on the East Coast, due to its quality offerings and unparalleled service.
Email Eastern Dentists Insurance Company