Pittsburgh's Yellow Bridge Interactive Creates Infographic on Content Management Systems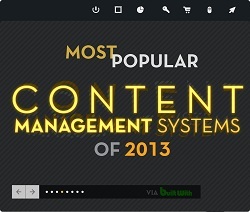 An infographic published by Pittsburgh-based web design firm Yellow Bridge Interactive compiles data from this year about preferences for CMS user preferences and other related information. Available from the Yellow Bridge blog, this information may not come as a surprise to web developers, but they reveal a few definite trends regarding the direction of web design and website usability.
Charts show the distribution of industries that use WordPress and Joomla! (the two CMS preferred by Yellow Bridge). The top WordPress users are business, social, technology, and entertainment industries. Top Joomla! users fall into the categories of business, social, health, and religion. With over 50% of the top 100,000 sites using WordPress, it has the broadest appeal and the most community support. WordPress is particularly known for its user-friendly interface, making publishing or editing content an easy task for users of virtually any tech level. Joomla! is the third most popular CMS choice, commanding just over 6% of the top 100,000 websites. It is a powerful CMS, able to handle complex navigation systems and a heavy load of content. Joomla! in particular has seen incredible growth in the past few years, boosting both its community as well as the quality of the platform itself.
Some of the most popular widgets to come out of 2013 are social media sharing buttons. Among these are the Facebook Like, Google +1, Twitter Tweet and Follow, Pinterest Pin It, AddThis (a plugin that gives users multiple social media button options to choose from to share content), and ShareThis (a plugin similar to AddThis). Other popular widgets include the Google Custom Search bar, Typekit (enables web designers to choose from a library of fonts), Lightbox (illuminates the border of a selected image), various WordPress plugins, and Yoast plugins among others.
Halfway through 2013, there has already been a strong push toward improving social media connectivity and employing easily manageable CMS in web design. Yellow Bridge will be looking to see how these trends develop as we continue to move toward 2014.
To see the full infographic, visit:
http://www.ybinteractive.com/blog/infographic-most-popular-content-management-systems-of-2013
.
Yellow Bridge Interactive is a web design firm that focuses on SEO-friendly website development. Their services include logo design, shopping cart and ecommerce website design, website redesign, mobile website design, social media integration, and Joomla! and WordPress design in Pittsburgh. To inquire about any of these services, contact Yellow Bridge Interactive for a free consultation:
www.ybinteractive.com/contact
.
Email Yellow Bridge Interactive