Advanced Bionutritionals Launches Ultimate Bone Support Product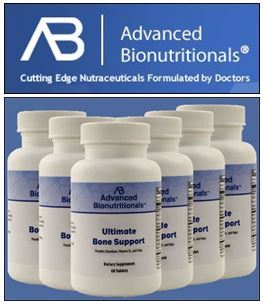 Norcross, GA – The researchers and specialists at Advanced Bionutritionals ® have created a new and improved bone support formula designed to build stronger bones and help people lead a more active, pain-free life. The product contains 10 essential nutrients which, combined, has everything the bones need to stay sturdy.
"Many people who are in their 70s or even 80s still have the energy to enjoy life, yet their bones may prevent them from doing it," says Nan Kathryn Fuchs, Ph.D. the product's formulator. "I believe this product will help give bones and joints the greatest possible support. This mix of 10 essential nutrients is not just a simple mix and match case, but a carefully measured combination. It doesn't only work to build new bones or limit bone loss. It also helps create strong connective tissue. In this way, all your bases will be covered, provided you take this formula in daily doses, for at least 6 months."
This
bone support
formula is based on 10 bone-building superstar nutrients that can provide the full range of nutritional power the human body needs in order to stay active. From Vitamin K to Vitamin D, to Zinc and L-lysine (an amino acid that contributes collagen creation) to Manganese, Boron and Silicon, all these substances combine to fight bone loss, osteoporosis and other related conditions.
Two of the surprise ingredients found in Ultimate Bone Support are hops, one of the oldest folk remedies, and Strontium - one of the most effective weapons against the onset of osteoporosis.
"In fact, Strontium is the reason why this product is so much different from the others. Only a handful of supplements on the market actually contain it, and those that do, will not have the correct amount," explainS Fuchs. "Many people will wonder why this product doesn't have Calcium in it. Well, simply because Calcium will interact with Strontium and it is also proven that too much Calcium will interfere with the body's absorption of the other minerals. And when it comes to Calcium, the truth is you probably get too much of it already in your diet and supplements, despite what pharmaceutical companies will say in their advertising."
People who would like to try the new Ultimate Bone Support product now can purchase it online through the Advanced Bionutritionals website. The offer includes an impressive offer for a package of 6 months' worth of product.
About Advanced Bionutritionals
Advanced Bionutritionals is a leading supplier of nutraceuticals and dietary supplements created by doctors and top-notch researchers. The company encourages fresh, all – natural, quality ingredients, following good manufacturing practice guidelines. The team of doctors and specialists behind Advanced Bionutritionals are always researching the best nutrients and the right dosages as determined by scientific studies for their consumption, aiming to ensure efficient health solutions for all ages. For more information about the bone support product, check
http://www.advancedbionutritionals.com/
or call 800-791-3395.
Email Advanced Bionutritionals