Delsuites Receives Fifth Consumers' Choice Award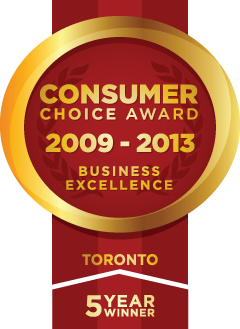 TORONTO, ON - As the recipient of the Consumers' Choice Award (CCA) for the Greater Toronto Area for the fifth consecutive year, DelSuites proudly continues to strive for excellence in the Furnished Rental category in Toronto.
The CCA, which was presented to the DelSuites staff team on May 16th, 2013 at the Vue Event Centre, is based on the tabulated results of an annual third-party survey conducted by Ledger Marketing on behalf of the Consumers' Choice Award Institute in cities across Canada. For more than 25 years, the CCA has received accolades from business leaders who recognize that high-quality standards are an indicator of business excellence.
"Our team works very hard to ensure that our guests receive the highest level of service," shares DelSuites Guest Services Manager Erin Conaty, "and to be recognized with this award shows that we have successfully achieved this." Conaty adds that the team "will continue to work hard and endeavour to exceed the high standards our guests that have come to expect from us." In fact, DelSuites' consistency in receiving this award is not only an indication of the high-business standards but also a testament to the level of appreciation we have for our guests.
About DelSuites
For more than 14 years, DelSuites has been the trusted name in corporate housing, offering 15 locations throughout Greater Toronto Area. A member of the Canadian Chapter of the Corporate Housing Providers Association, for the past four years DelSuites has also achieved the Consumer Choice Award for Business Excellence. For more information about DelSuites please visit
www.delsuites.com
.