AAA TLC is Now Hiring for a Number of Positions Including RN's, CNA's and Many More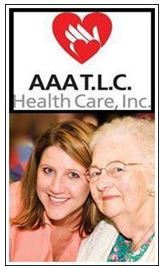 Los Angeles, CA - More people than ever need the compassionate care of a capable home caregiver, and
AAA TLC
is expanding rapidly to fit that need. People are living longer than their parents and grandparents, and home health care agencies help people get the most out of every stage in life, from birth to the golden years – at home where they want to be. The most highly regarded home care service in California is now seeking exceptional RNs, CNAs, and others to enrich the lives of others in the community.
Working with AAA TLC is rewarding in many ways. AAA TLC offers excellent wages and benefits, medical and dental insurance, 401-K, weekly pay, and special incentives such as bonuses for quality performance, referrals, and extended travel assignments. The in-home caregivers at AAA TLC enjoy consistent scheduling, guaranteed shifts without cancellations, and flexible contracts.
Employees of AAA TLC enjoy a reputation among the medical community as providing the finest home healthcare to the residents of the greater Los Angeles and San Francisco Valley areas. The area's doctors, nurses, and specialists in Los Angeles and San Francisco look to AAA TLC to provide capable and compassionate nurses, aides, LVNs, respiratory therapists, speech therapists, ultrasound techs, and other dedicated professionals. AAA TLC also provides services throughout the United States, extending the boundaries of quality care past the California state lines.
ABOUT AAA TLC:
AAA TLC improves the quality of people's lives every day. For over 20 years, AAA T.L.C has been one of the most respected homecare agencies in the industry. Our 5000 qualified nurses and caregivers are always ready to provide the tender loving care needed by those who are less capable of taking care of themselves. For more detail please visit,
www.aaatlc.com
.
Email AAA T.L.C Health Care, Inc