Colgate® Provides New Insight into the Causes and Treatment of Gum Disease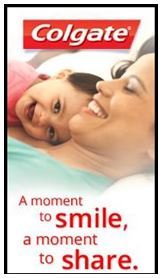 Johannesburg, South Africa – Colgate® believes in making products that enhance the lives of consumers and this consumer-centric approach has helped them make great oral hygiene products. With years of experience under their belts, they have partnered with dental health care professionals and dentists to examine the root causes of most common dental health care problems and developed products that offer a number of benefits for consumers. These include long-lasting fresh breath, plaque and gingivitis prevention, sensitivity relief and tooth whitening.
The prevalence of gum disease and the effect it has on dental health has become an ever more prominent problem. With a strong focus on providing research-based preventative solutions and improving oral health care, they have produced an extensive range of quality products and Colgate® has become a trusted household name. In the fight against gum disease they have developed toothpaste that not only treats bad breath but also assists with the prevention of plaque build-up and the development of gingivitis.
Understanding the causes and stages of gum disease helps in identifying the problem and choosing the course of action best suited to addressing the problem before it becomes serious.
The three stages of gum disease
Gingivitis: At this early stage, oral hygiene can still be improved and gum disease prevented if you brush thoroughly with good toothpaste.
Periodontitis: Now your gums begin to form pockets that trap food and plaque and your friends probably think you need a serious bad breath cure.
Advanced Periodontitis: Soon your teeth will start to shift or loosen – they might even need to be removed by a dentist.
Preventing or treating gum disease
Even though it is most common among adults, gum disease can occur at any age so children's oral care is just as important as adults.
Maintaining strong healthy teeth starts with proper brushing and flossing using recommended toothpaste such as Colgate®. Good oral health will help keep plaque from building up.
If brushing and flossing isn't helping, then you should visit a dentist.
Scheduling regular check-ups with a dentist and using toothpaste with germ-fighting protection, gum disease can be prevented or treated before it leads to a much more serious condition. Colgate® have a number of specially formulated products like Colgate® Total® that delivers 12-hour germ-fighting protection that freshens breath, leaving the mouth tasting clean and helps prevent many common oral health care conditions.
About Colgate®
Colgate® is one of the biggest manufacturers of quality
oral health care products
and has an extensive range of
toothpastes
, toothbrushes, children's oral care products,
teeth whitening products
and other oral care products like floss and mouthwash. The name Colgate® has become synonymous with quality and dedication to providing products of an exceptional standard that consumers can rely on. With innovative products to clean and brighten smiles as well as toothbrushes designed for comfort and results, Colgate® products promote healthy teeth and gums and good dental health. It's easy to see why Colgate® is one of the most popular oral and dental health products recommended by oral hygienists and dentists alike.