Crenney & Associates Publishes Infographic on Personal Injury Cases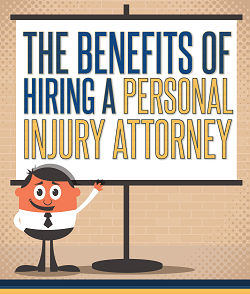 The Pittsburgh-based personal injury firm, Tom Crenney & Associates, has released an infographic to help readers better understand injury law, compensation, and the role of representation while pursuing a liability claim.
Individuals who have suffered personal injury are not always proactive about obtaining compensation, and many do not even understand what compensation they are entitled to. In fact, only 10% of injured Americans file a claim for compensation, and only 2% ever file a lawsuit. However, of all the personal injury cases that go to trial, 55% of plaintiffs win. If victims are willing to fight for the compensation they deserve, the numbers are in their favor.
Personal injury laws are extremely complex, and certain provisions vary from state to state. Although people may not think to hire a lawyer until after they have already filed a lawsuit, legal representation also serves as a useful resource when filing a personal injury claim, dealing with insurance companies (the victim's or the other party's), and waiting on a settlement offer.
It may be difficult to receive fair compensation without a personal injury attorney's expertise. Insurance companies will generally offer a lower settlement to those who act without legal representation. In these cases, the agencies take advantage of a victim's unfamiliarity with personal injury law. However, a personal injury lawyer will have a more accurate calculation for what a victim of personal injury is entitled to in the given situation. Insurance companies know that if they low-ball an offer, it is more likely to be challenged.
For more complicated cases, including medical malpractice, product liability, and slip and fall injuries, insurance companies may refuse to offer a settlement until the case is brought to court. Immediately bringing in legal representation or a medical malpractice attorney is important in these circumstances to preserve and document crucial evidence. A personal injury lawyer will also keep the case moving forward and not tolerate delays from insurance companies.
To see the full infographic on the benefits of hiring a personal injury attorney, visit
http://www.crenney.com/infographic-benfits-hiring-attorney.html
.
Tom Crenney & Associates, LLC represents victims of personal injury in Pittsburgh and the surrounding areas of Western Pennsylvania. The attorneys of this firm are experienced in handling a variety of cases that fall within medical malpractice, automobile and motorcycle collisions, and premises and product liability. If you need an attorney in Pittsburgh because you or a loved one has suffered a personal injury due to the negligence or malicious intentions of another party, visit
http://www.crenney.com/
and contact Tom Crenney & Associates to claim the compensation you deserve.
Email Tom Crenney & Associates