Colgate® Announces the Development of More Effective and Safer Whitening Toothpastes to Help Remove Stains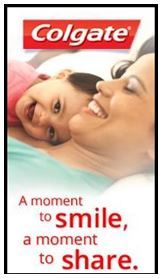 Johannesburg, South Africa – In simple terms, good oral care keeps the mouth looking and smelling healthy. Strong teeth that are clean and free from cavities are the result of a good oral hygiene routine which includes regular trips to the dentist. But what can be done to remove surface stains that discolour teeth? Although discoloured teeth may not necessarily have cavities, aesthetically it can be displeasing and be a cause of social embarrassment to many.
Having discoloured or yellowing teeth could be a result of a variety of things and can be minimised by using specially formulated whitening toothpaste that contains ingredients that are effective in removing surface stains while leaving the mouth fresh and clean.
Discoloured or stained teeth can leave a person feeling self-conscious. There are a variety of methods used to whiten teeth which include whitening toothpastes, whitening strips or trays or teeth can even be professionally bleached by a dental professional.
What can cause surface stains on teeth?
Tobacco
Coffee, tea, or red wine
Accumulation of tartar deposits, resulting from plaque that has hardened
Colgate® is a leading manufacturer of quality oral health care products and has spent a considerable amount of time developing reliable and safe teeth whitening toothpastes. Their range of whitening toothpastes are clinically proven to help whiten teeth and remove stains. Colgate® Baking Soda and Peroxide Whitening Bubbles® refreshes, removes stains and protects teeth against tartar wand fights cavities while Colgate® Tartar Protecting with Whitening® helps remove stains and fight tar-tar build-up.
Practicing oral health care
Daily oral care helps you stop problems before they develop. This important exercise will save you a lot of pain, money and time – while an unhealthy mouth just adds on to your worries. In between regular visits to the dentist, take the following simple steps to minimise the risk of developing bad breath and other oral problems:
Brush thoroughly twice a day
Floss daily
Limit snacks between meals
Use toothpaste, mouthwash and dental floss that contains fluoride
Good oral health practice is the key to a healthy mouth and a bright smile. Prevention is most certainly better than cure and meticulously cared for teeth will be healthier and look better than uncared for teeth. A dental practitioner will be able to provide good advice on how best to look after your teeth and gums as well as provide advice on which whitening toothpaste you should use.
About Colgate®
Colgate® is one of the biggest manufacturers of quality
oral health care products
and has an extensive range of
toothpastes
, toothbrushes, children's oral care products,
teeth whitening products
and other oral care products like floss and mouthwash. The name Colgate® has become synonymous with quality and dedication to providing products of an exceptional standard that consumers can rely on. With innovative products to clean and brighten smiles as well as toothbrushes designed for comfort and results, Colgate® products promote healthy teeth and gums and good dental health. It's easy to see why
Colgate
® is one of the most popular oral and dental health products recommended by oral hygienists and dentists alike.