CAI Safety Emphasizes Importance of OSHA Compliant Safety Gates for Mezzanine, Loading Dock, and Ladder Fall Protection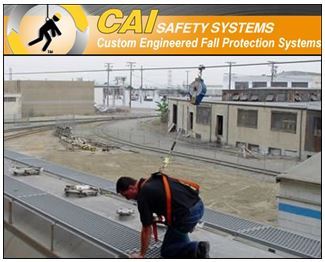 Corona, CA - CAI Safety, one of the leading suppliers of fall protection safety equipment in the industry, is taking this opportunity to inform businesses about the need for fall protection equipment like safety gates that comply with OSHA safety regulation standards. This is particularly crucial in locations like mezzanines, loading docks, and ladders, where a fall could be fatal.
The numbers are grim when it comes to job injuries and fatalities as a result of falls. OSHA and prominent federal agencies in the United States describe falls as the second-highest cause of death in the workplace nationwide. To make matters worse, these injuries and deaths are actually increasing each year when they could be easily prevented with some simple precautions. Companies that need workers to operate up high, such as on ladders and mezzanines, should be particularly sensitive to the need for some kind of fall protection on the job site.
CAI Safety is there to help, with every product built to meet or exceed OSHA safety regulations. In addition to
industrial safety gates
, the company offers guardrails, fall protection anchors, and many more. According to a spokesperson for CAI Safety, "We have extensive experience in providing a full range of systems to fit your application, including fixed, mobile, building mounted, and portable fall protection systems." Regardless of a company's particular fall protection safety needs, CAI Safety has the answer in its selection of quality equipment.
About CAI Safety
For several years,
CAI Safety
has worked hard to supply its many commercial and industrial clients with OSHA compliant fall protection equipment. The company features products that save lives on the job, but that are also built for ease of assembly, configuration, usage, and storage. With successful field tested solutions and a firm commitment to quality, CAI Safety is the very best choice for companies seeking out a solution to their fall protection system needs. For additional information please visit,
www.caisafety.com
.