MedCareLive.com Now Allows Patients to See Doctor Online for Only $45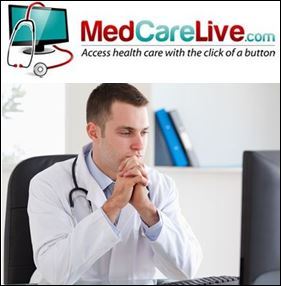 Los Angeles, CA – Doctor house calls in the digital age have taken on a whole new meaning. Now patients can seek advice from an experienced and licensed physician from the privacy of their home via their computer. MedCareLive.com now allows patients to see a doctor or nurse practitioner and seek advice for common ailments or simple medical conditions online for only $45 per virtual visit. This convenient virtual clinic requires no appointments and is available to all Californians regardless of insurance carrier or location.
With
MedCareLive.com
, patients talk directly and in real time to a board certified physician or nurse practitioner who can answer questions, make online diagnoses and prescribe medications. The conversations are live video chat interactions through any webcam enabled Mac or PC. Now there is no need to wait to meet with a doctor in person and common health complaints can be addressed quickly and effectively over the Internet.
The process is simple, private, secure and now at only $45 per visit, affordable. MedCareLive.com practitioners are all State-licensed, board certified, and credentialed medical professionals specializing in family practice, internal medicine, pediatrics and emergency medicine. These doctors and nurses undergo specialized training in tele-health communication and diagnosing patients over the phone and online video, while adhering to strict clinical protocols.
These doctors can remotely diagnose and provide treatment options for some of the most common health conditions that require a doctors' attention. These include allergies, cold and flu, pink eye, rashes, sore throat and many others. MedCareLive.com medical professionals can also provide quick advice and assistance for chronic health problems like diabetes, arthritis, high blood pressure and others. This is the ideal solution for California patients who need quick medical attention without having to go to an urgent care facility of emergency room.
For more information about virtual doctor visits and to see a doctor online today, go to
http://medcarelive.com/
.
About MedCareLive.com
Sigi Marmorstein, FNP-BC and Dr. David Tashman established MedCareLive.com in 2012 as a first of its kind, open virtual clinic using advanced communication technologies to bring quality health care services to patients throughout California. This clinic is available to all Californians regardless of insurance carrier or location. As practicing healthcare providers with many years of experience in Emergency Medicine, they noticed the overuse of the ER by California residents due to lack of insurance or access to health care. MedCareLive.com can offer their patients a unique alternative to unnecessary, time consuming and costly emergency room and urgent care visits, many of them for medical advice or simple medical conditions.