Lear Capital Offers Popular 20 for 1 Deal on $10 Indian Head Gold Coins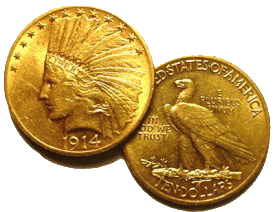 Commissioned by the irrepressible President Theodore Roosevelt and designed by famed sculptor Augustus Saint-Gaudens, the $10 Indian Head is considered one of the most stunning coins in numismatic history. Lear Capital is offering a compelling 20 for 1 purchase special on the gold $10 Indian Head (
http://offers.learcapital.com/a/jgroup/bg_wwwlearcapitalcom_LearCap-OPR-Modular-18_305.html
) along with a $50 Precious Metals Gift Card, a free Gold Investor's Guide, and free shipping on your entire order.
In 1905 famed sculptor Augustus Saint-Gaudens took up the challenge of revitalizing American coinage to better reflect America's new prominence on the world stage. Inspired by the magnificence of ancient art and marking the start of the Golden Age of American coinage, Saint-Gaudens fashioned an avant-garde $10 Gold coin that features Lady Liberty wearing a Native American headdress on the front and the majestic American Eagle perched on a stack of arrows beside the inscription E Pluribus Unum ("Many, uniting into one") on the reverse.
After the gold run of the 1930's, many gold coins were melted down for quick profit. Those that remain are in limited number and highly collectible. Indian head coins were the last gold coins made for US circulation, and are the most sought after in the world.
Gold has been a treasured metal for thousands of years and continues to enjoy widespread appeal as well as an indomitable store of value. Gold has always functioned as "paper money insurance" and with US Debt soaring into unprecedented territory, an ongoing Eurozone monetary crisis, explosive Mideast wars, and the steady threat of global terrorism … savvy investors have been diversifying their retirement and savings accounts with gold bullion coins.
Here are some other compelling facts about gold:
Gold is a highly tangible asset
Gold provides portfolio diversification and flexibility
Gold is held in reserve by most major governments
Gold is global money and is recognized worldwide
Gold moves independently of stocks and bonds
Specialty coins like the $10 Indian Head could offer a higher level of return in the long-term and a critical hedge against inflation in the short-term. Lear's limited time offer on the Indian Head Coin includes a Free Gold Investor's Guide with critical insights and statistics on gold ownership as well as a FREE Precious Metals $50 Gift Card and free shipping.
Lear Capital (
www.learcapital.com
) has been America's Precious Metals leader since 1997 helping tens of thousands of customers diversify their portfolios with bullion, premium rare coins, and IRA eligible gold, silver, platinum or palladium. For investors looking to realign their asset allocation, maintain an aggressive hedge against global volatility, or secure tangible assets … Lear Capital has a personalized plan.
This Special Coin Offer (
http://offers.learcapital.com/a/jgroup/bg_wwwlearcapitalcom_LearCap-OPR-Modular-18_305.html
) ends on June 28th, 2013 at 5pm PT.