Wattco R & D Develops a New Skid Mounted Immersion Heater for the Petroleum Industry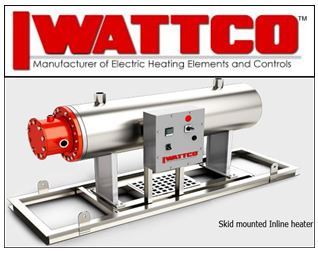 Hallandale, FL - Wattco, a leading electric heating products manufacturer, is pleased to announce the introduction of a new skid mounted immersion heater for petroleum companies. The innovative heater provides unparalleled power, mobility, and versatility to its industrial clients.
Wattco's skid mounted immersion heater is a first in the industry for containing 2 circulation vessels with a control panel that can provide up to 1 Megawatt of power. The heater can be modularized for most environments and specifications, and it has available options for weather resistance, moisture resistance, and explosion proof terminal boxes. Wattco's skid mounted
immersion heaters
are perfect for use in the biofuel, petrochemical, and crude oil industries.
On top of its new immersion heater, Wattco offers a huge selection of electric heating products, such as its water heaters, strip heaters, tank heaters, infrared radiant heaters, electric heaters, and many more. The company always ensures that its high quality products meet industry standards, including both CSA and UL. According to a spokesperson for the company, "Wattco's development in oil and gas industries, renewable energy, HVAC systems, and government projects helps our customers get their projects off the ground in the most cost efficient way."
About Wattco
Since it was founded in 1969,
Wattco
has been providing the highest quality electric heating products to all kinds of industrial clients, including powerful circulation heaters and water heater elements. In addition to great prices, the company proudly offers a price guarantee and quotes on its products within an hour after request. With the most rapid turnaround time in the industry and a strong dedication to great customer service, Wattco is the very best choice for industrial heating products. For additional detail please visit,
www.wattco.com
.