Tuskawilla Eye Care in Winter Springs is a Local Luxury Eyewear Destination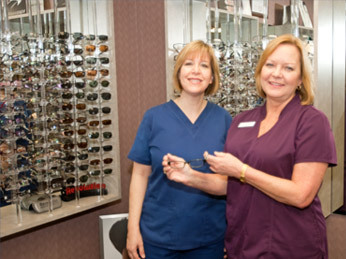 Tuskawilla Family Eye Care in Winter Springs, Florida offers a wide range of designer frames and sunglasses at competitive prices. Valued customers living in the Tuskawilla area will find luxury frames such as Adidas sunglasses, Armani Exchange, Fysh and Kliik-Denmark.
As Winter Spring's hometown eye care specialist, Dr. Hankins is committed to convenience and value at his practice. Tuskawilla Family Eye Care customers can now find all of the luxury frames that they desire without making multiple trips to high-end shops in the greater Orlando region.
The practice's selection draws from many different designers and matches the size and scope of specialized retailers' collections. And Tuskawilla Eye Care offers plenty of choices for active customers who seek durable, sports-friendly luxury frames as well as professionals who require strikingly attractive glasses that set them apart from the crowd.
The practice also carries Silhouette frames, which are only available at select locations, at a significant discount compared to high-end retailers in the area. Silhouette frames are constructed from titanium for lightweight flexibility. Few local eye doctors stock them, and they are often subject to steep markups at dedicated eyewear retailers. With a rounded-out selection that includes BCBG MaxAzria, Bravo Golf Series and Marc Ecko, Tuskawilla Family Eye Care has gained a reputation as a one-stop shop for competitively-priced designer frames.
"Unlike many mall-based eyewear outlets, our unique selection is supported by a knowledgeable, highly-trained staff that relishes the personal side of eye care and takes pride in selecting luxury frames that match our patient's facial features, prescriptions and personalities," said Dr. Hankins.
In addition to its wide selection of designer frames and its personal touch with each patient that it serves,
Tuskawilla Family Eye Care offers other vision-augmentation services
such as astigmatic, multi-focal, gas permeable and
soft contact lenses
as well as glaucoma and eye injury treatments. Eye exams follow transparent, competitive fee schedules. Tuskawilla Family Eye Care has also partnered with local Lasik centers to provide pre-surgery consultations and post-surgery follow-ups.
Name-brand glasses at Tuskawilla Family Eye Care are available during regular business hours and by appointment. For convenience, Tuskawilla is open from 8:30 a.m. - 5 p.m. on Mondays and Wednesdays, 8:30 a.m. - 7 p.m. on Tuesdays and Thursdays, and 8:30 a.m. - 11 a.m. on Fridays.
For more information about all of Tuskawilla Family Eye Care's products and services, call 407-278-4884 or visit them online at
www.tuskawillaeyecare.com
.
Email Tuskawilla Family Eye Care