Atlantis Hydroponics has Integrated its Rewards Program with Online Shopping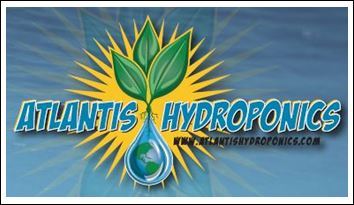 Atlanta, GA - Atlantis Hydroponics is already a valuable resource for reliable hydroponic grow systems. With the integration of their Rewards Program and their online shopping, purchasing hydroponic systems, grow lights,
aquaponics systems
, grow light kits and much more can earn you 5% back on every purchase.
When you shop at atlantishydroponics.com, 5% of your purchase total is placed on your account in the form of Atlantis Hydroponics Reward Points. Once $1000 in merchandise has been purchased towards earning Reward Points, the $50 earned can be used as a credit towards the next purchase. Points are automatically recorded and updated on every purchase whether it is a small order of hydroponic supplies or a large order with a grow tent and all the accessories needed to get started. Enrolling in the Atlantis Hydroponics Rewards Program is as simple as filling out the online enrollment form or having an Atlantis Hydroponics associate enroll you when shopping in one of the retail stores.
Atlantis Hydroponics is dedicated to teaching people about the use of environmentally conscious products and the value of growing food through hydroponics. They carry a wide range of equipment that has been tried and tested for quality and reliability and they also deliver the best in customer service. The savings you can enjoy through the
Atlantis Hydroponics Rewards Program
will make shopping for the best equipment and supplies even more affordable for you. The company is devoted to making growing without soil the future of horticulture. They give their customers access to the best available products so that there is no need to sacrifice quality and ready availability for a lower price. Earning Reward Points is effortless and can quickly add up to savings that will go a long way towards a purchase of hydroponic supplies.
Atlantis Hydroponics carries a complete line of
hydroponic growing systems
and supplies including complete growing kits, MH and HPS lighting, tents, soil and growing media, fertilizers and supplements, pest and disease control and much more. They also provide knowledge to their customers to help them get the best results from using their products for environmentally conscious growing. The earth-friendly practices taught strengthen communities and have an important impact on the overall environment today and in the future.
About
Atlantis Hydroponics has stores in multiple locations including Atlanta, GA, College Park, GA, Norcross, GA, Chattanooga, TN and Pensacola, FL. they also offer a wide range of hydroponic and aquaponics supplies on their internet site. They are a company dedicated to researching, developing, manufacturing and marketing gardening goods and consumable to the general public. Their goal is to reduce our carbon footprint and educate others about the use of environmentally conscious products. For additional information please visit,
www.atlantishydroponics.com
.
Email Atlantis Hydroponics