Sharper Cards Announces a June Promotion of 100 Complimentary Postcards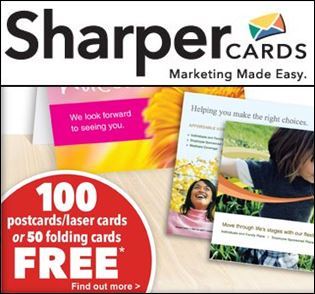 Calgary, AB - Sharper Cards, a marketing company that specializes in personalized communication products, is introducing a new promotion for the remainder of June. Customers with qualifying purchases will receive 100 complimentary postcards or laser cards or 50 folding cards, absolutely complimentary.
Sharper Cards, one of the leading providers of personalized communications, has designed this promotion to help their customers, both new and old, utilize the complimentary cards to achieve whatever goals their business hopes to accomplish. The prerequisite purchase can be any order of a variety of top of the line products, such as marketing postcards, business cards, greeting cards, promotional magnets, tote bags and much more. Whatever the business, there's an advertising product available from Sharper Cards that's perfect for any budget and plan.
The June promotion marks another great deal from Sharper Cards and comes as no surprise from a company with such a strong history of great customer service and support. "Our success is fueled by the input of our customers. We've heard from thousands of professionals over the years whose product requests and suggestions have prompted the development of our current line of personalized products," said Maria Block, Marketing Manager for Sharper Cards. "We want our customers to try something new with their complimentary bonus cards this time. By implementing different strategies to their current marketing plan, our customers will be able to continue growing their business and stand out from their competitors." Visit
SharperCards.com
to learn more about this amazing special offer.
Sharper Cards makes the process of personalizing marketing materials simple and efficient. The company offers a library of
free personalization options
, including messages, logos, fonts, layouts and ink colors. The company also provides a custom design service that enables customers to work with talented graphic designers to design the perfect marketing campaign.
About Sharper Cards
Founded 28 years ago, Sharper Cards provides industry leading marketing solutions for all types of businesses. With over 40,000 customers worldwide, the company is a one-stop shop for quality marketing products to help businesses achieve their goals and maintain a professional image. With a commitment to excellence, Sharper Cards hopes to maintain its position as one of the leading marketing companies that specializes in personalized communication and promotional products. For further detail please visit,
http://sharpercards.com/
.