VIP Dubs Highlights Range of Media Services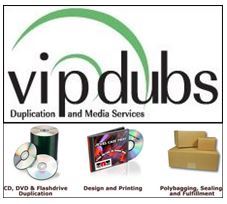 Madison, WI - VIP Dubs, one of the leading digital post production and
media duplication
companies, trusted by major production companies for their post-production needs now offers professional media duplication and other media services for general consumers. The range of media services offered by VIP in addition to media duplication includes creating digital photo slide shows and photo prints for special occasions, repairing audio and video tapes, transferring video from VHS ,Digital-Betacam, D2, DVCPro, DV, Mini DV & DV Cam ,or foreign formats to DVD, VIP also provides film transfers (8mm, Super8 and 16mm) to Video or DVD (8mm, Super8 and 16mm) and digitalizing audio from 33.3, 45 or 78 RPM vinyl records.
Clients looking to preserve their most precious home recordings will appreciate the professional media services and attention to detail offered by VIP Dubs. VIP Dubs will professionally transfer video from outdated VHS or camcorder tapes to a digital format that can be stored on a computer or DVD player. This makes family videos easy to store and play on virtually any device. VIP Dubs also specializes in foreign video conversions transferring PAL or SECAM videotape directly to NTSC DVD.
VIP Dubs also offers experienced repairs of videotapes including broken videocassette shells, torn and twisted videotape out of the shell, and jumping or scrambled video picture. This is the ideal way to preserve those old family videos and share them with generations to come. Clients who have precious vinyl records can also have VIP Dubs transfer the audio files into a digital format for safekeeping. VIP Dubs is able to work with 33.3, 45 and 78 RPM vinyl records ensuring that those classic tunes are preserved and can be played almost anywhere.
The team at VIP Dubs understands that they are working with families' precious memories preserved on video and audio, so they take extra care and give every project "the VIP treatment." These services are competitively priced to meet the needs of individual consumers. With VIP Dubs, clients can enjoy expert media duplication, restoration and digitalizing services that major production companies rely on, but at a price that is affordable for the general consumer.
For more information about the variety of media services including media duplication and preservation and to request a quote, visit
http://www.vipdubs.com/
or call (800) 952-1416.
About VIP Dubs:
VIP Dubs Duplication and Media Services is a thriving company with a commitment to give clients more than they expect. The nation's leading supplier of safety and compliance training videos, J.J. Keller & Associates, Inc., has chosen VIP Dubs as one of its top vendors five times in the past 12 years. VIP Dubs is a long-standing member of Media Communications Association International serving as a Gold Sponsor of the Madison chapter, and a member of Madison Advertising Federation.