Short Term Insurer MiWay Keeps Clients in the Loop by Making its Claims Process Even More User-Friendly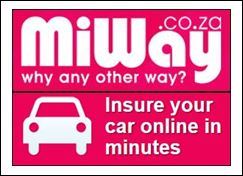 Johannesburg, South Africa - Innovative short-term insurer MiWay has made its claims process even more user-friendly with the launch of the AutoWatch system from Audatex. The service improves communication between panel beaters and MiWay customers, keeping customers informed, in real-time, on the progress of their car repairs.
"Accidents happen and are very often a stressful time," says Max Huggins, head of claims at MiWay. "Thanks to the introduction of the AutoWatch system, we're able to remove the stress of not knowing how your repairs are progressing. For many people, even if repairs take longer than expected, being informed makes all the difference between experiencing a pleasant claims process and a stressful one."
AutoWatch allows panel beaters to send MiWay client's messages and photos via email and SMS them at key intervals of the repair process. If there are any delays, customers are immediately informed, allowing them to make contingency plans. This will reduce the need for MiWay customers to make follow-up phone calls for updates. And because they are getting their updates straight from the source, delays and miscommunications are avoided. Customers can also access photos and status updates any time day or night by logging onto the client version of the AutoWatch system themselves.
MiWay is the first insurance company to endorse this innovative product outside of the US and Canada, where, to date, in excess of 2,7 million vehicles have been loaded onto the AutoWatch system. Going forward, MiWay will be able to use their own South African data from AutoWatch to troubleshoot any problem areas in the repairs process, further improving MiWay's and the panel beaters' service delivery.
"This is just another way MiWay is using technology to make our customers' lives easier. The AutoWatch launch follows our Submit, Shoot & Send improvement, which allows customers to email photos of their cars' damages via their smartphones to help speed up claims assessments. Another industry first for MiWay was MiXpress, which made it possible to get an online quote and setup and manage a short-term insurance policy online, without having to speak to a consultant at all," says Huggins.
Since launch in 2008, MiWay has been a pioneer in being completely transparent about customer feedback: publishing all online comments, warts and all, for anyone to see. "The launch of AutoWatch also demonstrates just how seriously MiWay takes customer feedback. Listening to what our customers are saying, it became clear that concerns around repair delays and issues with feedback on the status of repairs were of significant concern for a lot of people."
The AutoWatch service has already been rolled out to more than 80% of MiWay motor body repairers nationally, with training and implementation underway. The company expects to have all of its panel beaters up and running in the next few months.
For those looking to get an online quote from MiWay, or for existing customers wanting to manage their policies online, simply visit miway.co.za.
About MiWay
MiWay
is one of South Africa's leading direct, short-term insurance companies. Our business objective is to give our customers great value-for-money insurance products and offer a comprehensive range of short-term insurance products including car insurance, household and homeowners insurance and add-on products like motor warranties and liability cover. MiWay also offers bicycle insurance and motorcycle insurance.
We offer flexible, innovative and affordable insurance that suits your pocket and gives you peace of mind. MiWay also rewards clients with a one-of-a-kind loyalty programme called
MiRewards
. MiRewards is a cash reward paid directly into the bank account of our clients and is given to all clients that have been insured with us for at least 3 years – regardless of whether they have claimed or not.
With a staff complement of over 1000 people, we are committed to providing superb customer service and are transparent in all our dealings with our clients. MiWay has also been voted the best company to work in the 2012 Deloitte Survey.
MiWay offers complete
home and car insurance quotes online
, the ability to earn rewards and save on joining fees by buying car insurance policy online. We also offer self-management of your insurance portfolio without ever having to fill out a form or calling us as well as 24/7/365 lodging and tracking of claims.
Contact MiWay
or call us directly on (+27) 860 64 64 64.
Email MiWay Insurance Limited