Commence to Expand CRM Service Offerings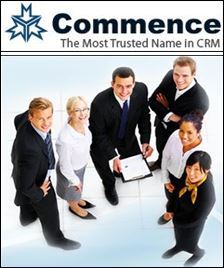 Eatontown, NJ - Commence Corporation a leading provider of cloud based
Customer Relationship Management software
(CRM) has announced the expansion of its valued added support services. "Customers are looking to do more with their CRM software says Tom Gibson, sales manager at Commence, especially in the area of sales opportunity management and marketing, but continue to run into a few road blocks. This is especially true of small to mid-size companies who may not have the resources or expertise to execute on their plans".
The problem is twofold, fist starting with the CRM software itself which may not offer advanced functionality in these areas. In addition, several that do, place the entire burden of creating a sales methodology and the distribution of marketing campaigns in the hands of the customer who simply does not have the resources or expertise to get the job done. Commence is one of the only companies serving the small to mid-market sector that offers assistance in these areas. Commences staff is trained on the implementation and use of numerous proven sales methodologies such as Sandler Systems, Dale Carnegie and Miller Heiman. In addition, the companies support staff includes marketing professionals who assist customers with the creation and deployment of marketing campaigns designed to generate new business and nurture prospective customers. These value added services differentiate Commence CRM from alternative products in the small to mid-size business sector.
"This is an area that is troublesome for SMB's says Gibson and one that Commence is helping customers to address. Many companies fail to understand the investment that needs to be made in-order to improve marketing and sales execution believing that the CRM software they just selected will do it for them. It won't. This requires human intervention and expertise that you may need to engage outside your organization".
About Commence Corporation
Commence Corporation is a leading provider of on-line CRM software and business process automation services. The company develops and delivers a diverse suite of award winning business solutions that integrate people, processes and cloud technology. Commence CRM is used by several thousand businesses around the world to streamline sales and customer services front end business processes. As a result, Commence clients increase workforce productive, generate positive customer interactions and reduce operational cost. For more detail please visit,
www.commence.com
.
Email Commence Corporation