TradeGreeks Announces Free Trial of Options Speed Investment Newsletter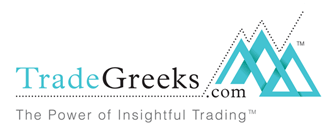 TradeGreeks, publisher of the highly-rated Options Speed and Options Magic
options trading
newsletters, just announced a free 15-day trial of their Options Speed daily options newsletter for individual investors who are looking for real-time daily option trading recommendations. Options Speed offers daily options trading recommendations targeting high investment returns with shorter trading cycles using directional option trading strategies that deliver consistent performance even during turbulent market conditions.
In 2012, Options Speed produced independently verified annual returns of over 117%. In 2011, Options Speed produced annual returns of over 300%. TradeGreeks' returns are independently verified by Pro-Trading Profits, a leading stock and options trading newsletter advisory and monitoring service.
"TradeGreeks is consistently ranked among the top two
options trading newsletters
for annual performance by Pro-Trading Profits, out of over 400 investment newsletters," said Sujoy Bhattacharya, founder and CEO of TradeGreeks LLC, "with our free trial subscription offer we've made it easy for anyone to test out our options trading newsletter risk-free and learn to trade options like a professional."
Investors can sign-up for the free 15-day trial on their recently updated website,
TradeGreeks.com
and learn more about the advantages of options trading. TradeGreeks has helped thousands of individual investors learn to trade smarter with diversified options trading strategies and easy to implement trading recommendations from their options newsletter.
"No credit card is required and it literally takes seconds to sign-up for the free trial," says Bhattacharya, "our subscribers stay with TradeGreeks because they see the value every day."
About TradeGreeks.com
TradeGreeks.com offers individual investors options trading strategies using a tactical blend of fundamental and technical analysis that consistently deliver high returns regardless of the direction of the market. TradeGreeks.com delivers real-time trading alerts and options strategies to its subscribers backed by an unconditional satisfaction guarantee. Visit
http://www.tradegreeks.com/
to learn more.