Calvert Handyman and Home Improvement Launches New Website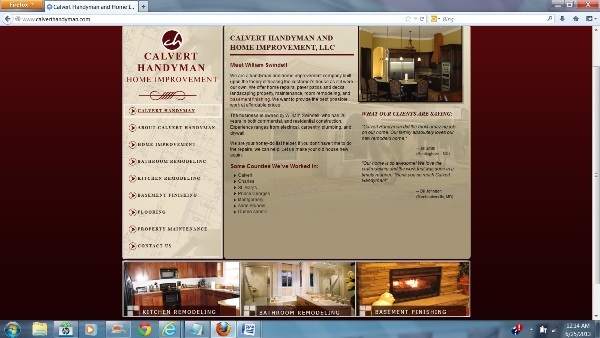 Calvert Handyman and Home Improvement
proudly announces the launch of their new website. The website is the brainchild of Mr. William Swindell, owner of this established and highly reputed home repair and handyman business. According to William Swindell the site was launched with the aim of reaching out to the community and making it easier and more convenient for homeowners to obtain the home repair and improvement services they needed, when they needed it.
In William Swindell's words, "Calvert Handyman and Home Improvement strives to reach out to homeowners and offer them quality work at reasonable rates. We are excited to display our new website and to bring to the community the different levels of services at very affordable rates. Calvert Handyman and Home Improvement operates on the principle of treating our customer's houses as our own."
William Swindell has been in the home repair and improvement business for 20 years and has extensive experience with plumbing, electrical, carpentry and drywall. During this time he has come to know many of the residents of the community on a one to one basis. The company offers all types of home repair services including landscaping property, room remodeling, paving decks and patios, basement finishing and home maintenance. Some of the counties they work in include Calvert, Anne Arundel, Charles, Queen Anne's, Montgomery, Prince Georges and St. Mary's.
For homeowners, the need of the hour is often to find reputed, trusted handyman services that they can rely on in the case of any emergency. As many will attest to, this is not the easiest of tasks.
Calvert Handyman and Home Improvement
was born to meet this need after William Swindell saw how difficult it was for family and friends to find a handyman who they could trust and who would be there when they needed it.
Besides emergency repairs, regular home maintenance and home repairs are also a must. Very often, homeowners are so busy with their professional and personal lives that there is little or no time to attend to small issues that need to rectified or repaired. Unfortunately, when neglected these minor repair words could quickly escalate and turn into major disasters. A dripping faucet if left unrepaired could cause a major leakage problem in the floor, which would then require extensive repairs. With
Calvert Handyman and Home Improvement
, there's nothing to worry about. They are the people you can trust to look after your home as their own when you do not have time to do the necessary repairs and maintenance.
Email Calvert Handman and Home Improvement