GreenRope Bridges the Gap Between Sales and Marketing With a Microsoft Dynamics CRM plugin.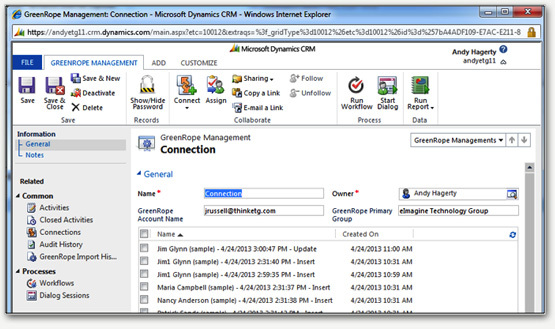 SAN DIEGO – June 28, 2013 –
GreenRope, which provides businesses with a business operating system rich in features, announced the launch of its new GreenRope/ Dynamics CRM synchronization tool on Microsoft Dynamics CRM high-demand platform.
Microsoft Dynamics CRM users can now integrate their current contacts with GreenRope's powerful sales and marketing solution. Contact information is automatically synced between the two platforms bridging the gap between sales and marketing. Dynamics CRM users are able to take advantage of GreenRope's marketing automation, email marketing, powerful analytics tools, and more with this new plugin.
Founder and CEO of
GreenRope
, Lars Helgeson, explains, "A lot of sales tools, such as Dynamics CRM, do not have the marketing capabilities that GreenRope offers. This is where we step in. You may have a CRM, but integrated marketing features like marketing automation and website analytics, are essential to streamline operations."
Benefits of the GreenRope/Microsoft Dynamics CRM plugin:
Easily move contacts and groups from Dynamics CRM to GreenRope.
Execute professional and strategic marketing campaigns using the GreenRope platform.
Synched data allows both sales and marketing professionals to access the same updated information across departments.
The GreenRope/Microsoft Dynamics CRM synchronization tool is developed and maintained by eImagine. eImagine combines industry specific knowledge and technology expertise, so that businesses can keep up with current trends and enhance the relationship between businesses and consumers.
About GreenRope
Lars Helgeson, who saw the need to make running a small to mid-sized business easier and more efficient, founded GreenRope. GreenRope's mission is to resolve the challenges of managing business operations by providing cloud-based integrated software that is effective, affordable, and user friendly. GreenRope streamlines key operations, including e-commerce, accounting, CRM, email marketing, mobile marketing, calendaring, websites, social media and more into one easy-to-use platform. By using GreenRope, companies can reduce their marketing and CRM software expenses by an estimated 80%. GreenRope's affordable pricing plans start as low as $99/month. Visit
www.greenrope.com
for more information.
About eImagine
eImagine Technology Group, Inc. is an Indianapolis-based software development company specializing in Microsoft.NET programming, Microsoft SharePoint, Microsoft Dynamics CRM and mobile app development. eImagine serves small and medium sized businesses, large international corporations, as well as state and federal government organizations. eImagine's vision is to create raving fans by consistently exceeding their clients' expectations. For more information on eImagine visit
www.thinkETG.com
or follow @thinkETG on Twitter.
Meg Richmond, Administrative & Marketing Assistant
317-577-9958 ext. 120 |
mrichmond@thinketg.com
Joel Russell, President/CEO
317-577-9958 ext. 121 |
jrussell@thinketg.com