Topo.ly Online Mapping - The Businessmen's Mapping Tool to Success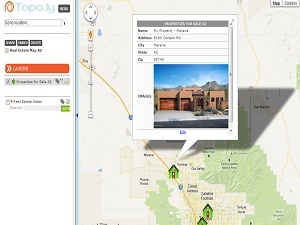 For businessmen, geography is a valuable thing that is worth time studying. By learning about it, they can be able to understand the behavior of their customers, tap new-found assets that can be used to enhance their services and products, and learn how to deal with their customers and potential customers at all times. One tool that is highly integral for them to create a map and scrutinize geography is Topo.ly. It is an
online mapping application
that develops tools that maximizes mapping technology. Businessmen can gain valuable insights with the help of Topo.ly.
Topo.ly has been in the business of providing exceptional data visualization through mapping for 4 years now. Since the start, it has helped thousands of companies all over the world to provide clear visuals as they map zip codes, counties, PUMA boundaries, states, regions and many others. Said Tom Haydon, who owns a consulting firm: "You folks have a great piece of software here. I was able to create a useful map within a few minutes of opening an account."
Topo.ly – Valuable Tool for Online Mapping Towards Success
Topo.ly is aware that time is important to all businessmen. In line with this, it makes its goal to continuously develop tools that are easy to use, time-efficient and cost effective. Here are some of its features that help business owners get their online mapping a valuable experience:
Create a Map in a Flash
Excel data containing address locations can be easily pasted to Topo.ly. In less than 3 minutes, they can
build maps
that tell stories that matter. By simple copy and paste, businessmen can map zip codes, counties, states and even world territories and boundaries. This feature enables them to spend more time in data analysis rather than plotting multiple addresses on a map.
Share Maps
Part of its goal to be most useful is to be able to have the maps shared to other people within the company that can help businessmen do critical decision making. They can simply enter the email address of the person with whom they want the maps to be shared with and instantly, the recipient will be able to have access with the map. This feature is also helpful for real estate agents and brokers who want to share the map to their clients.
Embed a Map
Not only can businessmen create a map instantly. As Topo.ly continues to value its users' commitment to extend good customer service, it allows them to embed a map to their own website. By this, businessmen can extend its service more not only to their loyal customers but also to new prospects.
Online mapping has never been this simple in providing timely aid to businessmen. Whether it is to create a map for exceptional visualization, or sharing map by zip codes, or to
embed a map
to websites, Topo.ly never fails its users to provide the benefits of mapping technology.