Infinity Moving and Storage Helps with International Moving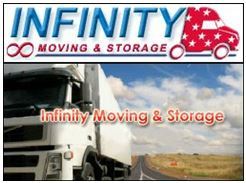 New York City, NY - Infinity Moving and Storage, one of the premier moving companies in the greater New York City metropolitan area, is taking this opportunity to remind clients of its innovative international moving services. The company features a dedicated team of international moving consultants to help customers enjoy a smooth and stress-free experience.
How does Infinity Moving and Storage make international moving so problem free? It begins with a pledge to provide door-to-door moving services worldwide. That means Infinity Moving can facilitate the whole move, taking customers from their current home in the New York area to their new home, whether that new home happens to be in Asia, Australia, or Europe. Shipping internationally can be complex and expensive, but the expert international movers and relocation specialists at
Infinity Moving and Storage
can customize the solutions to meet an individual customer's needs.
On top of Infinity Moving's expert international moving services, it also offers quality local and national moving services, as well as storage facilities in the New York area. According to a spokesperson for the company, "We operate as a family of moving professionals. When you hire Infinity Moving and Storage, you hire only those people directly involved with your moving needs." Whether customers are looking for a home mover, commercial mover, or other kind of mover, they're sure to get the results they need with Infinity Moving and Storage.
About Infinity Moving and Storage
For more than 9 years, the family owned and operated
Infinity Moving
has been dedicated to providing its customers with quality moving services at competitive pricing. The company has extensive experience in every type of relocation service, and can assist with local, national, or international moves. With the integrity, service, and experience to help with any type of move, Infinity Moving and Storage is the right choice. For more detail please visit,
www.infinitymoving.com
.
Email Infinity Moving and Storage, Inc.