EDIC Features Quality Webinar and Risk Management Series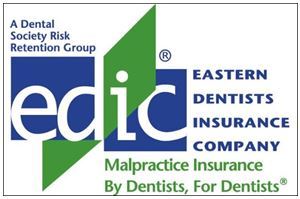 Westborough, MA - EDIC, one of the premier risk retention groups for dental colleagues, is taking this opportunity to showcase its well-received webinars and courses on risk management. Its dental colleagues can learn key insights into lowering their risk when it comes to professional liability issues.
Dentist malpractice insurance claims are an unfortunate reality for professional dentists who have to deal with the occasional frustrating patient, but there are steps dentists can take to minimize these claims. The key is to understand risk management and implement favorable policies. Fortunately, EDIC offers a wide variety of resources to reduce the risk of
dentist malpractice
claims, including both online and in-person courses for dentists, a risk management section in its newsletter, and on-campus risk management classes for dental students. EDIC also offers a toll-free number (800-898-3342) with a Risk Management team available for questions, concerns, or pending issues to discuss.
In addition to its risk management education and consulting, EDIC offers quality insurance products. Among its offerings are dental professional liability insurance, office packages, and personal insurance and financial products through EDIC's subsidiaries, EDIA and EDFIA. According to a spokesperson for the company, "With our proprietary knowledge of malpractice claims, we are proud to carry a 93 percent success rate in our dentist malpractice cases." Thanks to its impressive track record, EDIC is able to provide highly competitive rates and unparalleled service to its loyal clients.
About EDIC
Since its establishment in 1992, the
Eastern Dentists Insurance Company
has done its best to contain the high costs of dental liability insurance for its many dentist clients. The company, which is owned and operated by dentists, runs a significant pool of dentists in 11 states in the North East. Because of quality insurance and educational offerings, along with unmatched customer service, the successful risk retention group is continuing to expand and grow. To learn more, go to
www.edic.com
.
Email Eastern Dentists Insurance Company