Star Helicopters Is Now Selling Custom Built Helipads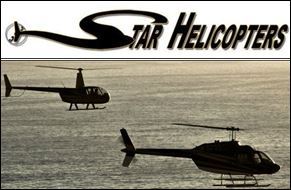 Los Angeles, CA - Star Helicopters offers private and professionally flown and narrated helicopter rides in Los Angeles and the surrounding area, and now they also offer customer built helipads. These custom landing sites are portable, safe, and hand crafted to your exact size and color specifications.
Star Helicopter helipads are designed and built by highly-qualified manufacturers and are exactly what the pilot in your life needs. Because Star Helicopter is an FAA Part 135 Certified operator, they are fully qualified to design and manufacture helipads that are reliable and durable.
Helicopter tours
and recreational flyers alike need a dependable place to land, and Star Helicopter can provide just that. All the helipads built by Start Helicopter meet the standards established by the Federal Aviation Administration and are totally portable. You can move your helipad to any location as long as you have a standard trailer hitch.
Custom built Helipads are just a small portion of the services that Star Helicopters offers their clients. They also have flight training, aerial photography services, and of course, helicopter tours. Star Helicopters offer clients seven different tours that use five different types of helicopters. This might seem like a lot to handle, but the professionals at Star Helicopter provide these services on top of running professional, commercial, and private helicopter pilot training. Star Helicopters are so confident in their programs that they have said "once you have trained here with us, you will be qualified, experienced and confident enough to fly anywhere in the world."
About Star Helicopters
At
Star Helicopters
, all of the aircraft is equipped with the Traffic alert and Collision Avoidance System so that any and all accidents are successfully avoiding in Los Angeles's busy airspace. The company holds themselves and their pilots to the highest safety standards. Star Helicopter and all of their pilots have a perfect zero accident and zero incident flight safety record, and they treat their clients and staff if honesty and respect. For more detail please visit,
www.star-helicopters.com
.