TextMaster Selected by Microsoft to Enhance Office 365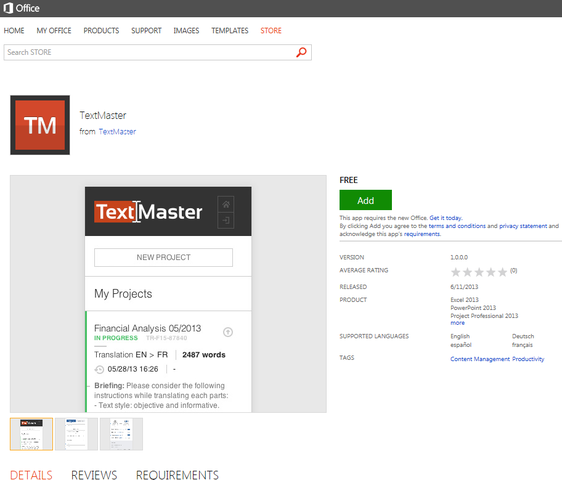 NEW YORK, N.Y. – TextMaster, the leading on-demand platform for translation and proofreading, has been selected by Microsoft to improve their latest version of Office 365, the most widely used Office suite in the world. The free app gives Microsoft users access to more than 60,000 expert copywriters, translators and proofreaders and is currently available in the Office Store.
"We are very pleased to have been selected by Microsoft," said Benoit Laurent, co-founder and chief executive officer of TextMaster. "The integration fits perfectly with our global strategy, and we look forward to providing exceptional service to Microsoft's international customer base."
TextMaster app allows all Office users to have their text translated or proofread by professionals directly in Office. To use the app, users simply install it, create an account, select the language and level of service desired and launch the order. The document is then automatically connected to the TextMaster platform.
TextMaster app is compatible with the latest versions of Word, Excel, PowerPoint and Project Professional. Supported languages currently include English, Dutch, French and Spanish.
TextMaser services are commonly used for assistance with web pages, product pages, newsletters, articles, blog posts and other types of projects, both large and small. Users can expect superior quality, fast turnaround and competitive pricing.
"With one billion users worldwide, Office integration is a very exciting opportunity for us to continue our growth both in the United States and abroad,"said Kristi Poldsam, the U.S. Country Manager of TextMaster. "The app is simple to download and extends the core functionality of Office, providing a value-added solution directly to end users," she added.
Office users in the U.S. can download TextMaster directly from the Office Store. The app will be available for download for users in Europe starting July 31. For more information, visit
www.textmaster.com
.
About TextMaster
TextMaster is the first on-demand platform dedicated to the production chain of text content, from creation through to translation and revision. TextMaster is also a simple system providing solutions to today's needs (e.g. the translation or correction of a basic document) as well as a powerful management solution for complex projects (e.g. large volumes or multilingual projects). Home to a community of over 60,000 professional authors, translators and editors, TextMaster currently offers its expertise in 10 languages: English, French, Italian, Spanish, Portuguese, Chinese, German, Dutch, Russian and Polish