G8LED introduces the 450 Watt BLOOM light for indoor plant flowering.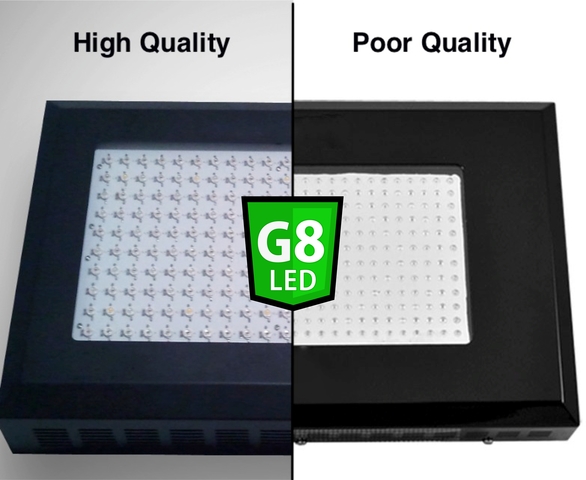 G8LED introduces the 450 Watt BLOOM light for indoor plant flowering.
After continued demand from customers, G8LED released a larger version of its BLOOM only light, the G8-450 BLOOM light. This LED growlight for flowering is the larger size of the popular G8-240 BLOOM light, which customers had been using to set up separate flowering indoor grow stations.
The BLOOM lights are for assembly line type of grow rooms where there is a separate station for vegetative growth and another station just for plant budding and flowering. The main panel is used in the vegetative growth station and the BLOOM light (G8-240BLOOM or G8-450BLOOM) is used in the flowering station. The size of the flowering LED depends on the amount of grow area needs to be covered and is the same as the coverage specs of the main panels:
G8-240 for 6+ square feet
G8-450 for 12+ square feet
Flowering area coverage per light is increased when placing several LED grow lights next to each other from the cross coverage provided by additional lights.
"We had customers calling us and asking for a larger BLOOM light, so we did as they wanted and recreated the diode ratio of the G8-240BLOOM in the larger 450W model size." Reports Ethan G. of G8LED. "We kept the same full spectrum diode ratio and Ultraviolet (UV-B) spectrums which we had proven to be the most effective for robust flowering. This is an outstanding light and we are proud to be able to offer it to our loyal customer base."
G8LED distributes its lights through its online retailer
Dorm Grow LED
and also supplies various garden supply stores and hydroponics stores. To get in touch with the company please email
info@g8led.com
Robert Stanton