CFA Announces Acquisition of Avogadro Group LLC by Yukon Capital's Montrose Environmental Corp.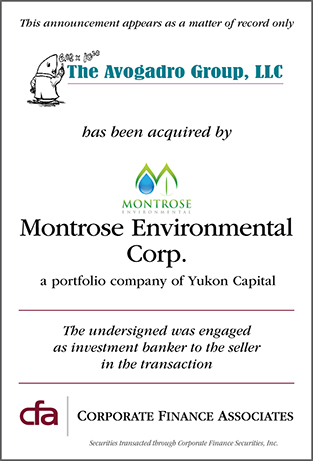 July 23, 2013 – Los Angeles -
Corporate Finance Associates
, an international investment banking services firm providing merger and acquisition, business valuation, capital resource and financial advisory services, is pleased to announce the acquisition of Avogadro Group, LLC by Yukon Capital's Montrose Environmental Corp.
The Avogadro Group, LLC
located in the San Francisco Bay Area is recognized as a leader in the regulatory compliance testing and monitoring of stack gasses in the power generation, petroleum refining & exploration, and other industries that release gasses and particulate matter into the atmosphere. Their outstanding reputation is based on the consistent high quality and reliability of their testing and reporting standards as well as their industry accreditation.
Montrose Environmental Corporation
is a diversified environmental company with operations in California and Hawaii. Montrose serves a diverse range of customers, including landfills, electric utilities, water and wastewater treatment facilities, municipalities, and corporations. Montrose, a portfolio company of Yukon Capital, recently acquired SCEC, a Southern California company providing services similar to Avogadro, and Associated Laboratories in Los Angeles which provides environmental analytical laboratory services. The addition of Avogadro Group will solidify their offerings in the environmental services sector.
Jeff Johnson
, Managing Director and Principal, CFA San Francisco commented, "The management team at Avogadro was searching for the perfect partnership that would further the company's growth goals and they found it in Montrose Environmental. The two companies share a commitment to quality, reliability and integrity which will serve the combined organization well in the years to come."
About Corporate Finance Associates
Celebrating more than 56 years of service, Corporate Finance Associates is a major investment banking firm, with over 20 offices across North America and Canada, 3 in India and 15 partner offices in Brazil, China and throughout Europe providing middle-market companies with a wide range of financial advisory services and access to capital resources. More information is available via the Internet at
www.cfaw.com
.
Email Corporate Finance Associates