Capture and Use Address Locations Data Value with Topo.ly Online Mapping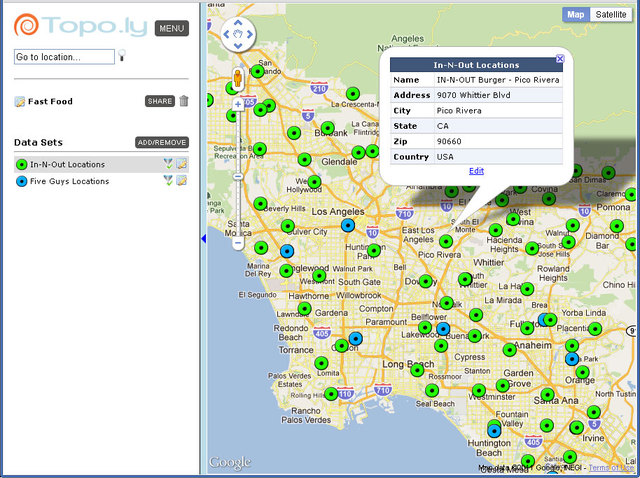 Address locations data plays an important role in the foundation of a company's success. In fact, by understanding the core value extracted from their Excel data of multiple addresses, they can focus on the necessary. Topo.ly Online Mapping has been developing tools to help companies not only capture but also to derive value from their data. As they create a map, they realize how to target the right people, how to explore new markets, and many other important facets in running the business.
Another reason many companies rely on Topo.ly is that its tools are easy to use. Not a lot of thinking is required to simply create a map and analyze the data from impressive mapping visuals. Mr. Benjamin B. who's in charge University of Maine Facilities Management "This is a powerful tool for anyone trying to manage a large number of mapping points! Other mapping systems on the web just don't compare–Topo.ly is where it's at!"
Address Locations Data Management, Rightfully Done Through Online Mapping
Companies come to Topo.ly to help them improve their business. With the exceptional tools and features it offer, companies can provide quality solutions to better manage their data.
Add Unlimited Data Sets
Topo.ly can help Plus Members identify insights by adding unlimited data sets when they create a map. Address locations when mapped can help in identifying growth opportunities. From their Excel spreadsheets, companies are able to collect addresses of businesses, establishments, and others that they think may have something to do with their nature of business. When multiple data sets are mapped, they are able to identify the values from them. They can also easily identify the relations between data sets.
Create Heat Maps Easily
Heatmapping by Topo.ly is one of the most exciting and useful features. Heat maps can be viewed in less than 5 minutes after a simple copy and paste process of Excel data. By using this method, companies are able to quickly identify what areas are more dense or least dense because the map itself serves as a guide to identify specific percentages by boundaries. This unique data visualization through heatmapping allows companies to position their businesses more effectively so that they can target more people while providing improved services to satisfy their loyal customers.
Companies that rely on Topo.ly online mapping to create a map are always ready to capture new insights as they analyze their address locations data. By using Topo.ly, they are always a step above the competition.