Lear Capital Offers Exclusive Gold Polar Bear Coin with the Purchase of the $5 Liberty Gold Half Eagle for August Promotion.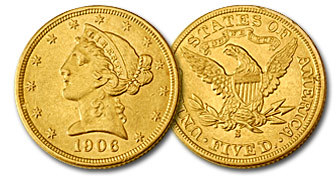 In an exclusive August coin promotion for investors and collectors alike, Lear Capital is offering a complimentary gold Polar Bear coin, (
http://www.learcapital.com/about/buyonline/incentives.html
)
struck in a quarter ounce of fine gold, with the purchase of fifteen rare and authentic $5 Liberty Gold Half Eagle coins minted from 1839 – 1908.
It is not often that two unique, gold coins of this caliber are brought together over a century apart in a precious metals investment package with numismatic, historical and pure gold content value. (
http://www.learcapital.com/about/buyonline/incentives.html
)
The $5 Liberty Head gold piece is notable for being the only US coin of any type or denomination to be struck at all seven mints … San Francisco, Philadelphia, New Orleans, Dahlonega, Denver, Charlotte and Carson City. A truly magnificent coin, it contains .24187 ounces of pure gold and depicts a crowned Lady Liberty on the obverse and a majestic and evocative bald eagle perched on an olive branch, clasping arrows, and brandishing a shield embossed with the stars and stripes on the reverse. This Christian Gobrecht design was influenced by the Neoclassic elements of era and endured for 70 years.
The $5 Liberty Half Eagle was minted through some tumultuous times in US History including the Mexican-American War, The California Gold Rush, The Panic of 1857, the Civil War, the Battle of Little Bighorn, the Haymarket Riot, the Land Run of 1899, The Wounded Knee Massacre, and the Spanish-American War. During the Civil War, in particular, there was widespread gold hoarding and Liberty Half Eagles from that period are both rare and even more highly valued.
The complimentary gold Polar Bear coin (
http://www.learcapital.com/about/buyonline/incentives.html
)
is an investment-grade release from the Royal Canadian Mint. It is a quarter ounce of fine gold in uncirculated condition and minted in a parallel line finish akin to the gold Canadian Maple Leaf. An exceptionally brilliant coin, the obverse depicts Queen Elizabeth II while the reverse depicts a majestic polar bear crossing a golden arctic expanse in shimmering detail. The gold Polar Bear is IRA eligible and its purity and weight are guaranteed by the government of Canada.
Gold has outpaced the S&P for the last decade and gold coins could play a critical role in asset protection. Many investors are currently acquiring various types of precious metals to help protect their savings against a possible global currency collapse and to secure their retirement from the impact of excessive government debt which has recently dominated our national dialogue with discussions of the Debt Ceiling, the Debt Limit and Sequestration
Lear Capital (
www.learcapital.com
) is considered the gold-standard for investors looking to add precious metals to their investment portfolio. Lear offers bullion (in the form of coins, bars and ingots), gold or silver-backed IRA's for investment, diversification and retirement protection. For investors looking to realign their asset allocation, maintain an aggressive hedge against market volatility, or secure tangible retirement protection, Lear Capital has a plan.
It's important to note that Lear Capital (
www.learcapital.com
) maintains an A+ rating with the Better Business Bureau and is a PCGS (Professional Coin Grading Service) Authorized Dealer. In addition, they abide by the NGC's (Numismatic Guaranty Corporation) coin grading Standard of Integrity, and support the ICTA (Industry Council for Tangible Assets) on issues of taxation, IRS regulations, and legislation that impacts all tangible assets.
The special August coin promo is available online
http://www.learcapital.com/about/buyonline/incentives.html
) or by calling Lear Capital directly at: 1-800-576-9355