Trade Show Emporium Adds SEG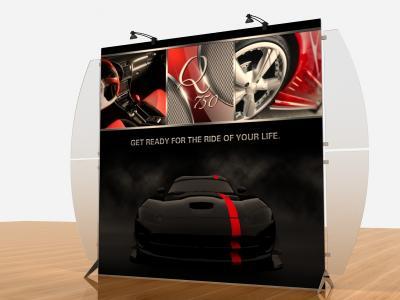 The trade show industry as a whole is always looking for ways to make displays easier to set up, more appealing to the eye and of better quality. From the type of fabric used to the time it takes to set up a display, trade show display designers are experimenting with new concepts, materials and layouts. A newer technology in the industry for fabric graphic displays is called
Silicon Edge Graphics
, or SEG.
Trade Show Emporium
, a full design and trade show service company, is stepping up their game and adding SEG displays to their list of available designs. The company noticed a trend in client feedback-that fabric displays were difficult to set up flawlessly without a crew of people. Most graphic displays use other ways to attach the graphic fabric to the display frame. Other
fabric displays
are put together using Velcro. The graphic panel is attached to the display structure using the substance, which can prove to be tricky in getting the graphic on straight and without wrinkles. After hearing such feedback from clients, Trade Show Emporium decided that SEG is a great solution to such problems.
What makes SEG SEG is the thin silicon strip on the edges of the high quality dye sublimated graphic fabric. This strip fits perfectly into the small gutters on the frame of the graphic, giving the display a seamless finish. The sew line of the graphic is hidden in the gutter of the graphic frame, so it really does look seamless, as stated before. This shows off the graphic much more than most fabric displays because there is the "less frame" look.
The benefits of SEG displays are quite extensive. The fabric used is light weight and easy to care for. This cuts down on the cost of shipping because it can fit in smaller packages and the fabric can be washed and steamed so that it is always looking fresh and wrinkle-free. The fabric and SEG displays are also cost effective because you get more image and graphic for what you are paying for. Traditional fabric displays may cut image size due to the way the frame fits. With SEG graphics, that is not a problem. Also, the fabric used turns out perfectly in photos or video because the fabric produces no glare on screen.
Not only are SEG displays more eye-catching and easy to set up, they are completely customizable. You can use SEG style fabric with any extrusion profile displays. Practically anything and any setup can be accomplished while using SEG. Shelving, monitor mounts, storage, lighting and much more can be added to the display in order to make it custom and just what the customer needs and wants for their next trade show.
Trade Show Emporium
is now a proud vendor of SEG graphic displays in order to further meet the needs of their growing clientele. Always looking to be at the forefront of the trade show industry, Trade Show Emporium is excited about this new added line of products.
Email Trade Show Emporium