Government and Industry Increasing Scrutiny on Abusive Collectors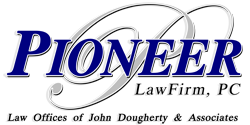 New York – July 31, 2013
– Pioneer Law (
PioneerLawFirm.com
), a Colorado firm providing bankruptcy, FDCPA, real estate, and business law, confirms recent collection practices of reputable banks and lenders have employed unfair, deceptive, and abusive acts. The offenses range, yet have been documented at national bank and department store collection departments and beg for further attention. Issues have now escalated to the point where Federal regulators are cracking down on the nation's biggest lenders.
In one case documented by the
Wall Street Journal
, an internal review of J.P. Morgan Chase found mistakes in 9% of the cases of a sample 1,000 lawsuits the bank brought against borrowers. Although the bank responded mistakes "had a minimal" impact on customers, J.P. Morgan filed more than 100,000 lawsuits in California alone to collect unpaid debt from January 2008 to April 2011. This could mean about 9,000 of those California lawsuits could have had mistakes. A review by Deloitte Consulting found even higher error rates after reviews at Bank of America and Wells Fargo.
Further example came this month as the Federal Trade Commission imposed a fine of $3.2 million against the world's largest debt collection agency, Expert Global Solutions, for violating the Fair Debt Collection Practices Act ("FDCPA"). The company pursued collection efforts even when consumers denied responsibility, however "the key practice we saw was calling too much,"
says Christopher Koegel of the FTC's Bureau of Consumer Protection
. This violation however is also seen
at Capital One and smaller lenders like Macy's
who hound consumers behind on their bills with repeated calls, an act restricted by the FDCPA. These offenses also have brought the attention of the
Consumer Financial Protection Bureau
who is investigating collection practices under the Dodd-Frank overhaul law.
"Deceptive or abusive practices are illegal but many borrowers don't know what actually is allowed and they are surprised when they call us for help. First they are delighted when we help end abusive calls but then they become angry as we identify issues like inadequate documentation or a foreclosure being approved without reviewing documents," said John Dougherty, Founding Attorney at Pioneer. "We have seen first-hand the abuses of small and large lenders, so the news of regulators finally getting involved may mean that lenders with illegal practices will pay attention."
About Pioneer Law
Pioneer Law is legal firm specializing in Bankruptcy, Business Litigation, FDCPA, and Real Estate law. For those paralyzed by debt, disputing with a business, troubled by a collector, or involved in the sale of real estate the specialists at Pioneer Law are prepared to advise, represent, and give peace of mind. For more information visit
PioneerLawFirm.com
.